The Z5 pickleball paddles are among the most sought-after pickleball paddles when it comes to spin and power. Finding the best paddle depends on what type of player you are.
An advanced player may prefer a paddle with less control and more power. But for a beginner, equipment that has more control is better because it helps you place your shots better. Your arm strength and endurance may determine whether you choose a lighter or heavy paddle.
We did some research and found that the Z5 pickleball paddle is a great choice for beginners and advanced players.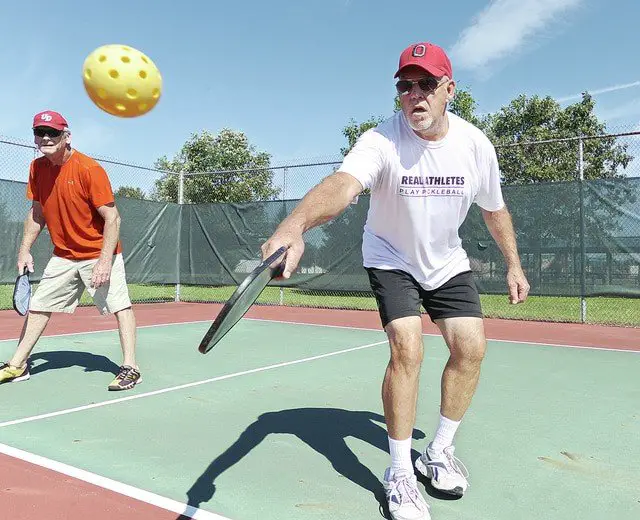 The Best Z5 pickleball paddles
The Z5 pickleball paddle is available as a composite pickleball paddle or a graphite pickleball paddle. They are two of the most popular pickleball paddles with Onix sports.
Composite Z5 Paddle
This Z5 pickleball paddle* has a composite core and a fiberglass hitting surface.
The composite model has more power than the graphite model. It weighs about 8-9 ounces
It's great for long strokes and has a wide body feel that most racquetball or tennis players love.
It has a sharp design that really stands out on the court.
Pros
The composite paddle offers excellent power for players that have good ball control.
Its wide body shape makes it great for beginners and advanced players because of the large sweet spot.
You will also love it if you are looking for more pop from the baseline.
The fiberglass material on this paddle's face gives it "bite" or "grab" that helps give a ball spin when you slice the paddle across the ball.
It is a good looking paddle.
Cons
Not ideal for players who have shoulder, wrist or elbow injuries because it is heavy.
The weight also increases fatigue if you are playing for an extended time.
You should also expect less control and a slower swing from this paddle.
Some pickleball players complain that the grip of this paddle lacks definition.
Want to use this infographic on YOUR site?
Just copy and paste the below code into the HTML of your page to show this infographic on your site with the correct attribution! You're welcome!
<a href="https://bosssquash.com/blog/z5-pickleball-paddle-review/"><img class="alignright size-full wp-image-1006″ src="http://bosssquash.com/wp-content/uploads/2018/11/Z5-Pickleball-Paddle-Review.jpg" alt="" width="1000″ height="3497″ />