When you think about the next phase of women's squash, a player that is on several radars is Tinne Gilis. Tinne is from Belgium and has been recognized as a player to watch on the women's tour. In June 2020 Tinne was nominated for the PSA Young Female Player of the Year Award.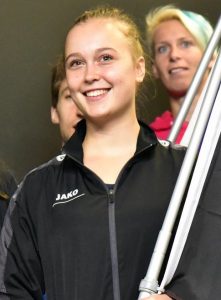 What I love about Tinne in this interview is that her confidence comes through in the definitiveness of her answers. A few takeaways from the interview that you can use today:
Work hard and train the mental side of your game as well. You can be the fittest or the more skilled player, but at this level of squash it comes down to being a strong mental player. And nothing beats hard work.

"The mindset of a champion is strong, they have the will to succeed and overcome any failures that come their way."

Focus on execution. When practicing, determine the goal you want and practice it until you complete exactly what you wanted [I want to hit a drop shot that hits the nick 5x in a row].
To stay connected with Tinne, you can find her at:
Tinne Gilis Interview
BossSquash: What sports did you grow up playing? + How were you introduced to Squash?
TG: I actually grew up playing squash. I started playing when I was 6 years old. My uncle was the owner of a squash club nearby and my mum used to give squash lessons there. Twice a week I joined the group sessions, and I always enjoyed it.
I also did other sports like swimming, football, gymnastics, tennis but squash was the sport I loved the most so I wanted to focus on that. Around the age of 12 I started playing international junior tournaments.
BossSquash: When did you know that Squash was going to be more than just a hobby for you?
TG: When I was 12 I started training with Ronny Vlassaks, he was the head coach of Belgium. I was doing better and better at junior tournaments and eventually became number 1 on the junior ranking. Ronny was the one giving me a lot of confidence and telling me I was very talented. I remember playing the World Junior Championships for the first time at the age of 15 and I got Nour El Sherbini in the second round. Obviously I lost, but I knew after that match that I wanted to be as good as her one day. I always kept training hard and I knew as soon as I finished school I wanted to go pro.
BossSquash: Talk about growing up with your sister Nele and how she influenced your squash?
TG: Nele was always the better player, she was always one step ahead of me. Even though she's almost 2 years older, there was always a part of me jealous of how good she was. For example: at a very young age she was allowed to train a group higher, started training with Ronny before me, and won junior tournaments when I was still struggling in the first round.
I always looked up to my big sister and I think that's what made me work harder as well. It was a nice feeling knowing we both had the same interests at a very young age and knowing we would go through all this together. There has always been competition between us, because I wanted to be better than her and she didn't want to lose against her younger sister, but it definitely made us both stronger. I don't think we would be at the level we are now if we didn't have each other.
BossSquash: When did you feel like you arrived on the pro tour?
TG: I felt like I was really on the pro tour as soon as I started getting into the biggest tournaments, so I guess when my ranking was around 50.
I've always loved playing the 'smaller' ones as well, but it wasn't the same. Watching everyone play on SquashTV or actually being there is a huge difference for me. It's also a very different atmosphere. You're surrounded by the best players in the world, everyone is very professional and it feels more serious as well.
BossSquash: What is your favorite tournament to play in?
TG: My all-time favorite tournament is the European Team Championships.
I just love the fact it's a team event, whether you win or you lose as a team. It always motivates me more cause you know you have your team behind and supporting you no matter what. You're also together all day, so you don't ever feel alone.
My top 3 favorite PSA tournaments are El Gouna, Nantes and Windy City Open.
El Gouna is just an amazing location. I always feel very relaxed at this tournament, probably because of the amazing weather. It sucks to lose but if I do, I think I'll accept my loss the quickest in El Gouna 🙂
Nantes always surprises me the most, I've played it for the last 3 years and every year they manage to make the event better and better. The crowd is unbelievable, probably the best I've ever seen. I wish every tournament had a crowd like this.
Windy City Open is always very well organized, I also really like this city in general.
BossSquash: Career highlight?
TG: The best achievement of my squash career so far was reaching the last 16 of the World Championships in Cairo last year. I got the chance to play Nauran Gohar in round 3 on the glass court in front of the Pyramids. It was definitely an unforgettable experience and the most amazing place I've played squash so far. I hope to get more chances to play in such iconic places.
BossSquash: Have you ever tried doubles squash? What do you think?
TG: Yes, I actually played my first doubles tournament in Nottingham last year. I've played doubles before but never on an actual doubles court, it's so different! I really needed some practice before this tournament. The tactics of doubles are almost the opposite of what you would do in a single squash match. Safe to say I should just stick to single squash, but I had so much fun playing and watching.
BossSquash: Describe your recovery routine at tournaments
TG: I like to drink my protein shake as soon as possible after my match, because the effect is higher immediately after exercise and diminished over time. I take some time to stretch and/or bike as well to make sure my muscles won't get sore. Good food is also very important to make sure I get enough in my body to recover.
I was never the best in taking good care of my body after a match, but I've learned so much from other players and realized how important it is to give your body the necessities it needs. At the end if you feel good on court, you'll play better.
BossSquash: Describe your toughest opponent and why.
TG: My toughest opponent has to be Nele. I've always struggled the most against her mentally. Now more than ever, because our matches are getting closer and closer. Staying mentally strong throughout the whole match is always something I struggled with the most. The fact that I have to play my sister never made it easier for me because obviously you want the best for each other.
Nowadays I try to switch the 'bottom' in my head and forget as soon as I step on the court that she's my sister. I won't ever lose respect for her but that makes it easier for me to keep focussing on myself and not my opponent.
This also made me realize how important it is to be mentally strong on the court. You can be the fittest or the most skillful but if your mind isn't at the right place at that moment it makes everything so much harder.
BossSquash: To be a champion athlete, how much is talent, and how much is hard work?
TG:  In my opinion, hard work is the main thing. If you have the gift of being very talented at something, but you don't do anything with it you won't get any better. At the end if you work hard enough for something, it will always pay off.
Hard work beats talent when talent doesn't work hard.
BossSquash: How would you describe a Winner's or Champions Mindset?
TG: Short said: The mindset of a champion is strong, they have the will to succeed and overcome any failures that come their way.
BossSquash: How much time do you dedicate to squash every day?
TG: Depends day to day. Some days I'm on court for 45min, other days 2hrs depending on what kind of session I do and how I feel that day. On a good day with 2 squash sessions or 1 squash session + conditioning or strength / warming up / cooling down included, I would say I dedicate at least around 4 / 5hrs to squash every day.
BossSquash: Do you believe in sports psychology? Have you ever used it?
TG: I've never worked with a sports psychologist, but I do believe it works. They often help athletes cope with the intense pressure that comes from competition and overcome problems with focus and motivation.
BossSquash: When practicing, how do you simulate a match? How do you work your mental game?
TG: During a practice match I like to think I'm playing the most important match of my life, it makes me automatically push harder. It also helps me get better in stressful and crucial situations.
Recently I've been trying to write down my negative points on court to see how I can turn them into positive things. I try to repeat these things to myself on court every time I need it to make sure I keep pushing and don't give up. It's not always easy and it won't always work but there is always something you can learn from the situation for next time.
BossSquash: How do you think about solo practice?
TG: I think solo practice is a very important thing. If I need to work on something I like to do solo, it helps refine technique without pressure and mistakes can be analyzed in-depth and at your leisure. When I start playing my shots very confidently, most of the time it comes from practicing that shot over and over again in my solo sessions.
Boss Squash: What do you think about squash getting into the Olympics?
TG: I think squash players deserve so much more. If you look at the Olympics values and qualifications squash should have been added a long time ago, it's one of the toughest sports out there physically, mentally and tactically. But I'm proud to see how we as a spirit and community are continuing to build a global presence.
Being part of the Olympics would be a dream come true.
BossSquash: If players could only focus on 1 thing, what would that be?
TG: Execution. There are a lot of things very important in squash, but if players could only focus on 1 thing, I would say execution.
Being tactically and physically strong is very important but in the end if you don't execute your shot correctly you'll still be under pressure and it will be very difficult to beat your opponent.