It wouldn't make sense to use a cheap racquet on a game you play a lot, especially when you pay a hefty gym membership fee already! You want the best squash racquet available for your game. And a lot has changed since this guy played the game!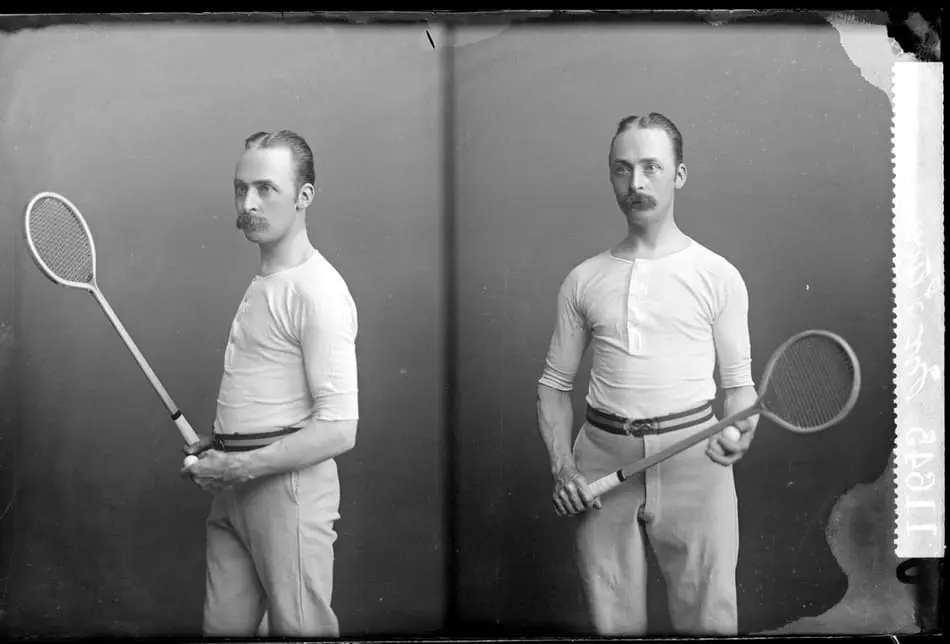 With that being said, there are a lot of racquet makers who are very good and have there own specialties depending on the type of squash you are playing, specifically if you are playing singles or doubles squash.
Considering that there are differences in a singles and doubles squash racquet, some coaches and professionals insist that the racquet you use does not matter, as a "pure" squash player can play with any racquet. While that generalization may be true for playing leisurely, playing at a consistently competitive level requires an optimized racquet for your game and style.
Choosing the best squash racket to match your skill-level and game play can be a difficult process, especially for players just starting out. Luckily, we've done the work for you – let's see what we have.
While picking the right squash racquet is skill specific, picking the right shoes to wear comes down to personal preference and comfort.
Picking the right shoe
can be critical to longevity in playing because of the constant work your legs and joints take in playing squash.
Best Squash Racquets
Also, for the first time squash player there is the option to look at some of the low-cost rackets that are intended for the entry-level players. While the basic rackets are not built to last a number of years, they are certainly able to give a good indication of what to expect from playing squash. Also, if you do decide to get more serious, you can use the knowledge gained from the starter racket to choose the next level up. For instance, you will be more aware of things related to the material, balance and weight. We have made an infographic that summarizes the key things we consider in buying a squash racquet:
Squash Racquet Infographic
Squash Racquets Comparision Infographic
SquashRacquets2018

Harrow Vapor – Best of Both Worlds, Premium Racquet
The Harrow Vapor gets its name because of the vapor trail seen after the swings from this racquet. Just kidding, but this is one of the best racquet around.
The Harrow Vapor is a top-rated racquet for the intermediate players and its qualities come at a top-end price. It gives the ability to deliver great power, control and responsiveness on the court.
The one negative with the racquet is concerns over it's durability. It is susceptible to breaking and seems to be a little fragile. Many players do complain that for the price, they expect the racquet not to break as it gets expensive to replace.
Overall, this squash racquet has an amazing feel, great control and a top-end option for squash players.
Pros
Large sweet spot
Stiff shaft for more control
Little to no vibration
Cons
Expensive
Brittle racquet with durability concerns
Harrow M-140 – Editors choice for doubles, best doubles squash racquet
The Harrow M-140
is one of Harrow's top selling doubles frame of all time and is the preferred racquet of several SDA pro tour players, and current world #2 team of Scott Arnold and John Russell.
The larger head size provides a larger sweet spot for off-center hits. While perfectly suitable for a bigger hitting singles player as well, the new graphics on the Harrow M-140
highlight a stiff and powerful frame providing you with all the game you need to carry your partner to victory.
This racquet is evenly-balanced which provides great touch on when playing. It is on the lighter end of doubles racquets, which provides power through your forehand or backhand swing.
One thing that some players may have some adjusting too, especially when playing hardball doubles for the first time, is the speed of play, and thus the control from this racquet. If you need more control, a heavier racquet may be more suitable for beginning doubles players.
John Russell here spotted using the Harrow M-140 in 2018
Pros
Versatile racquet for singles or doubles play
Large head for a greater sweet spot and power
Nice blend of power and control
Cons
Lighter doubles racquet which offers less control
Rather than a traditional "square" handle, this racquet is more "rectangular" which can feel different in your hands.
Tecnifibre Carboflex 125 – Best for Singles Squash
The weapon of choice for PSA World Number One squash player Mohamed El Shorbagy, the Tecnifibre CarboFlex 125
is a formidable squash racquet for a wide range of players with varying play styles.
The Carboflex 125 is especially ideal for players who favor long volleys and aggressive play styles, but it can be utilized for all sorts of strategies. With excellent precision and control, the Tecnifibre Carboflex is a great racquet for making precise and deadly shots from any place on the court.
The Carboflex is heavy enough to provide powerful and controlled shots while remaining light enough to ensure that you don't get worn out too quickly into the match. The head weight on the Tecnifibre Carboflex 125 is perfectly balanced for both control and power, which is why it is an excellent racquet for players whose play style leans towards longer volleys.
The Carboflex boasts a strong sweet spot, and if you figure out how to consistently make contact with it, you'll be sure to hit explosive shots time and time again. This racquet also has an Isomorph Shaft, which increases power by around 25% as compared to the standard mono shaft.
The Carboflex does have a bit more vibration to it compared to some other racquets of similar caliber, but not nearly enough to cause any real damage to your game. Taken in combination with the balanced weight, you'll hardly even notice. 
Pros
Large sweet spot
Head-light weighting for quick racquet head speed through the ball
Great factory strings included
Cons
Slightly more vibration than other comparable racquets
Head-light weighting may take some getting used to if you play with a balanced or head-heavy racquet
Harrow Bancroft Executive Racquet – Doubles only, heavy weight
Looking for a strong, sturdy, and reliable squash racquet? Look no further than the Harrow Bancroft Executive
.
The #1 female squash player in the US, Natalie Grainger. You don't get to that level without a great racquet. Not only does Grainger use the racquet, she actually helped design it. This is the kind of racquet fit for a professional.
The Harrow Bancroft Executive racquet is heavy enough to pack a punch, and while still remaining light enough where you won't wear yourself out too quickly into the match. With that being said, this racquet has fantastic precision and control. The Harrow Bancroft Executive Racquet will keep your opponent running back and forth across the court, game after game.
While this racquet can surely be used by all types of players, it is worth considering that this racquet may not be exactly what you are looking for, especially if you play a lot of singles squash. Weighing in at 155 grams, this racquet is heavy for singles play. Most singles racquets are 140 grams or less.
Pros
Strong and sturdy to handle hardball doubles play
Head-heavy which provides greater power
No vibration
Great control across the racquet no matter your grip preference
Cons
Heavy for singles play
The head-heavy aspect of the racquet may take some getting used to, which some players may not like
Black Knight Ion Cannon – versatile racquet, moderate price
The Black Knight Ion Cannon is a great racquet for singles or doubles players, and reps a bold black and yellow design.
The Black Knight Ion Cannon is well balanced and maneuverable with its large hitting surface, moderate stiffness, and lightweight construction. Plus, the weight is just about right – not too heavy, not too light. Black Knight racquets are known for their durability. This racquet will be a weapon for battle for many years.
The factory grip on this racket is fantastic, although it is different than most because of it's distinct ridges. It is very grippy and comfortable which is less likely to lead to minor blisters after a long game.
A negative with this racquet is the teardrop design for doubles play. Typically doubles racquets sport a shorter, but wider head. Using this racquet for doubles play is possible due to the weighting and durability, but the teardrop design lends itself to a smaller sweet spot.
Pros
Awesome design
Durability – Black Knight racquets don't break often
Factory grip is fantastic
Long-lasting racquet at a great price
Cons
Teardrop design for doubles play means a smaller sweet spot
Factory grip has ridges, which is different than most racquets
Head Extreme 120 – singles only, best price
The Head Extreme 120
is built with plenty of innovative features such as the Metallix, Flexpoint and Microgel technology. This is a great racquet for beginning players that is hoping to quickly advance the playing skill and all-around game play. The larger head size makes it easier to play for the beginner with great control and power.
The EXTREME 120 provides stable power and maneuverability for the front court club player.
This squash racquet is particularly good for players that like to play a lot of drops and volleys. It is easy to handle because of its lightweight construction at just 120 grams. Plus, this racket is able to give a stiff performance with little to no vibration.
The negative of this racquet is that it isn't a great two-way option. This racquet is definitely made for singles squash. Another point of concern for some players is the construction of the handle and grip. Rather than a traditional "square" handle, this racquet is more "rectangular" which can feel different in your hands.
Pros
Great for attacking players who are great at drop shots and lobs
Lightweight
Durable and stiff
MicroGel technology leads to no vibration in softball singles squash
Cons
Not great for doubles squash as a lot of times the racquet felt like it would break hitting the ball hard
Handle and grip. Rather than a traditional "square" handle, this racquet is more "rectangular" which can feel different in your hands.
Head Graphene Touch – Large Sweet Spot
The Head Graphene Touch Radical is one of the premier racquets on the market in 2019. As the chosen racquet of 2008 world cup runner-up Karim Darwish, you know this racquet has what it takes. This is one of the best high quality racquets you can get and is durable enough to last for years.
Weighing in at only 4.76oz the Graphene Touch is a light and lethal machine that will help you step your game up to the next level. Not only is it light, the Graphene Touch is weighted unlike most other racquets.
The Head Graphene Touch Squash Racquet is head heavy, which may take some players some getting used to, but once you're comfortable with the weighting and balance, you'll see the true power of this racquet.
All in all, the Head Graphene Touch Squash Racquet is a great racquet for players all across the spectrum. There are some aspects of it that some players may not find to their liking but, hey, everyone is different, especially when it comes to squash. If you're looking for a great gift or are just looking for an affordable way to step up your squash game, look no further than the Head Graphene Radical racquet.
Pros
Lightweight
Unique weighting
Little to no vibration
Stronger and less brittle than other similar racquet
Cons
Though it has a lot of power for such a light racquet, some stronger players may prefer a heavier weight for even more power
The head-heavy aspect of the racquet may take some getting used to, which some players may not like
Karakal SN-90 FF Squash Racquet – Singles Power Player
The Karakal SN-90 FF Squash Racquet is an ultra-light squash racquet for singles players. This racket has a premium price, lightweight construction, ease of control and ability to generate power.
The racquet is constructed with Fast Fibre Carbon Gel. The addition of Fast Fibre to this already super light racket allows you to create more head speed and generate even more power.
This racquet is definitely a singles-focused racquet and many reviews on the web note the brittleness of the frame, as it is susceptible to breaking. Just don't hit the wall!
Pros
Ultra-lightweight for more power
Head-heavy for more power
Cons
Because it is so lightweight, it requires excellent shot control
Not ideal for doubles and somewhat brittle frame
Best Squash Racquet – Buyers Guide
Some players may look to buy a low-cost racket while others will look to spend a significant sum to get the highest quality equipment possible. Also, there are many brands – Tecnifibre, Head, Dunlop and Prince – that offer a wide range of squash gear.
Here are a few things to consider in the process of deciding on the best squash racket:
Squash Racquet Price
A great place to start is the price range of the squash racket. They vary in price from the very cheap to the extremely expensive. Simply base your decision on how much you can comfortably afford to invest in your gear. While it benefits to go a little above the most basic options, there is no need to start out with the most expensive or highest quality racket.
A beginner can easily invest $30-$50 on a starter racket, but the best value is going to be a racquet around $100-$150 if you are serious about the game. The most expensive racquets are over $200.
Squash Racquet Quality
There are plenty of factors that can impact the characteristics and behavior of the squash racket, including the material, shape of head, size, balance and weight. Try out and handle a few rackets to see which is most effective for your game play.
Always go with the squash racket that matches your skill-level. Also, the highest quality racquet is built with better qualities and will last longer.
Racquet Construction
There are two primary types of composition in a squash racquet, the Open throat design and the Closed throat construction.
An open throat will help provide control and stability due to the shorter main strings.
A closed throat has a larger sweet spot and normally generates more power.
Racquet Balance
In Squash there are three different categories of balance in a racquet. Head light racquets, head heavy racquets and evenly balanced racquets. Each plays very differently and has different benefits to the player.

Head Light: Having less weight in the head and more weight in the handle make these racquets feel lighter and more maneuverable.
Head Heavy: With the majority of weight in the head, these racquets give more power with less effort.
Even: Evenly distributed weight will make these racquets provide maneuverability (faster swing) while still generating power.
Racquet Weight
Squash racquets range in weight from 110 grams to 170 grams. The appropriate weight of the racquet typically depends on personal preference. With that being said, there are advantages to both a lighter racquet and a heavier racquet.

Lightweight (110G – 145G): A light racquet allows for quick wrist movement, quicker movement of the head, allows you to have soft touch and good feel, aid in deception in front of the court, easier control.
Heavyweight (145G – 170G): A heavier racquet aid in adding more power to your shots, offers stability and a smooth impact thru the ball.
Grip Shape
Squash racquets come with a standard handle size, but the handle shape can change among manufacturers. The shape that you decide to use is going to come down to personal preference.
Rounded Handle: Think of this as feeling like a baseball bat
Rectangular Handle: Think of this feeling much more like a tennis racquet
Replacing
Racquets can last years if they are properly maintained. What consistently needs to be replaced is your strings, which should be replaced on an annual basis.
Squash Racquet Conclusion
As you can see, there are several factors that go into making a racquet "best" for you as an individual player. Depending on your play style and physical attributes, one racquet may suite you better than the next player.
If you are just starting out, the Black Knight C2C nXS
will be a good option for either singles or doubles play. As an advanced player singles player, you cannot go wrong looking at the Tecnifibre CarboFlex (more in-depth review here). If you are looking to play only doubles, the Harrow M-140 is the way we would steer you.
While picking the right squash racquet is skill specific, picking the right shoes to wear comes down to personal preference and comfort. Picking the right shoe can be critical to longevity in playing because of the constant work your legs and joints take in playing squash.