[Updated on 1 August 2022] If you've played squash before, you definitely appreciate the importance of having a squash racket grip. They do a great job of absorbing sweat while offering some tackiness during those intense moments. This allows you to hold onto your racket even when you're sweating. We took some time to conduct some research on some of the best squash racket grips in the market, so stay tuned.
Types of Squash Grips
Our goal was to find durable, quality, and well-priced squash grips that are compatible with different player's needs. Players often combine two types of squash grips:
Overgrip

Replacement grip
This serves to improve the sweat absorption process while increasing the comfort level. Some of the reputable brands that we reviewed include:
Karakal

Harrow

Black Knight
The Problem with Stock Squash Racket Grips
Rackets often have a stock grip, but it's not enough now that you need to absorb the sweat. This is why we recommend that you use to combine the stock factory grip with an overgrip. Overgrip also increases the comfort level while you're holding on to your racket.
In some cases, you might have to get a replacement grip to replace the factory grip. This adds on to the comfort level while you're playing the game. Personally, I use overgrip in all my rackets.
Find the Right Squash Racket Grip for You
Selecting the ideal grip is a matter of choice and personal preference. The idea is to choose the kind of grip which you're most comfortable with. After several trials, you'll find out which grip works for you.
To stay on top of your game, you need a racket grip that is sticky. This will enhance your performance because the racket will be firmly in your hand. Your energies will be entirely focused on winning the game. It actually eliminates unnecessary distractions as the game becomes intense.
Sweat absorption calls for an overgrip, which can be added on top of the stock factory grip. There are some players who add to the size of the grip because it is more comfortable for them.
Key Features of Squash Racket Grips
Durability

Adjustable thickness

Self-pasting

Absorbance
The three types of squash racket grips include:
1. SOFT – The Comfortable Squash Racket Grip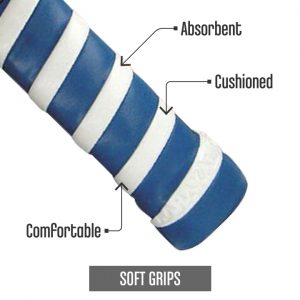 Squash players use the soft grips for absorbency, comfort, and cushioning. However, it's important to note that soft grips can be used as thin replacement grips or thick overgrips. If you're looking for an in-between solution, then this is the way to go.
2. OVERGRIP – The "Quick Fix" Squash Racket Grip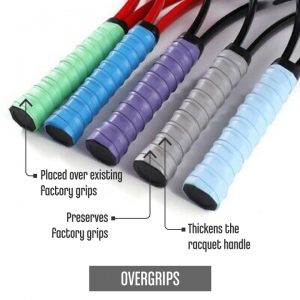 The overgrips are often placed on the existing grips. They're ideal if you need to replace the factory grip which comes with the racket. They're also great for sweat absorbency.
3. REPLACEMENT GRIPS – The "Do-Over" Squash Racket Grip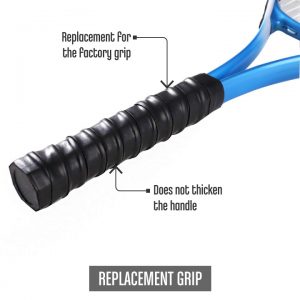 If your stock factory grip gets worn-out then replace it with the replacement grips.
BEST SQUASH RACKET GRIPS
Product prices and availability are accurate as of the date/time indicated and are subject to change. Any price and availability information displayed on [relevant Amazon Site(s), as applicable] at the time of purchase will apply to the purchase of this product.
Prices pulled from the Amazon Product Advertising API on:
Best Overall Grip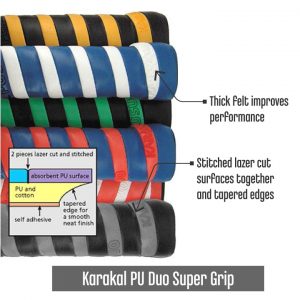 This grip comes with a thick fell which improves your performance much based on its universal length. It can be used for tennis, badminton, and squash. This works perfectly if you're a big fan of many sports.
It's also an ideal candidate for players who sweat a lot. It has the capability to hold well and firmly even as you sweat profusely. Considering the comfort level that this grip offers, that's a big plus since its very soft.
Verdict
This grip is well-priced and it holds up to the challenge. The only problem is the discoloration aspect; it tends to fed with extensive use. It would be a great idea if it comes with different colors to choose from.
Pros
This grip offers excellent cushioning.

It facilitates great control.

The absorbency is excellent.

It offers adequate friction.
Cons
The colors fade after prolonged use

There are no colors to choose from
BEST FOR A QUICK FIX IN-BETWEEN MATCHES
This grip is ideal for players who sweat a lot while playing squash. It's easy to use and install and adds on to the comfort level while one is playing.
The manufacturer is a reputable brand in the market known for making top-notch grips. This grip is often used by professional players.
However, we found that this grip wears out very quickly. But if you play squash on a regular basis, then consider purchasing this grip in bulk. One pack of this comes with 10 grips.
Pros
Easy to use.

It offers different sizes.

Absorbency is great.

Improves the player's control.
Cons
 

Wears out quickly.

 

It wears out pretty quickly, which is why it's recommended to buy in bulk.

 
BEST SQUASH RACKET OVERGRIP
The Yonex overgrip is easy to install and comfortable to use. This grip is not so tacky, but it's relatively comfortable. We tested this overgrip with my colleague, and it was evident it could handle strenuous games.
However, this grip does a great job of preserving its texture even after prolonged play. Considering the grips we tested, this one emerged at the top in terms of keeping its texture.
Unlike the previous grip, this one offers color options. This simplifies the customization process for players who want to introduce some preferences and styles.
Pros
It comes in many colors from which one can choose from

Retains the original texture

Ideal for humid and hot weather.
Cons
Players' have complained about the grip not being as sticky as they thought. Also, in real life, the colors are totally different from what you see in pictures.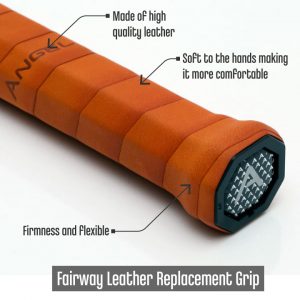 The first thing to keep in mind is the durability span of this grip. Leather is more durable compared to other materials. It also offers exemplary firmness and flexibility – giving the player more control and power.
Its grip is also soft to the hands thus adding on to the comfort level. With respect to installation, there's nothing to worry about with this grip. It's well made and the installation process is easy. If you're one of those players that like leather, this is a great idea.
Since its made of quality material, the price is slightly higher compared to other grips made of different materials.
Pros
The finish is smooth.

Easy installation.

Ideal for heavy-duty games.

It perfectly combines flexibility and firmness.

It comes with a smooth finish.
Cons
As you can see, the racket grip plays a crucial role while you're playing squash. It's an essential aspect of the game due to the significance it carries in regards to performance.
How often should you change your squash racket grip?
This is a great question to ask yourself, but it turns out that you should change it more often. You don't want to be one of those players who neglect their grips. Typically, a racket grip should last for about 10-15 matches, after which it will start slipping. For instance, if you play the game two times every week, then change the grip after two months.
Impacts of a worn squash racket grip
Slipping off your hand.

Inadequate touch.

The dye will spread all over your hands

Produces hand odors.

Safety concerns.
Other Considerations To Make
The first consideration that you ought to make is whether you sweat excessively. If that's the case, then you need a racket grip that's good at absorbing sweat.
As you continue to sweat, the grip will absorb the sweat and improve the handle's grip. This will enhance the performance of your game-play.
However, we need to mention that excessive friction on the grip damages the grip. For this reason, 7-8 matches are enough. Then you can replace the grip.
The type of grip you want to use. Some grips are well-priced, while others are not. This is where personal preference comes into play. You don't have to sacrifice quality for a cheap-priced grip.
Remember to consider the court temperature. It's obvious that if you play on a hot court, there are higher chances that you will end up sweating more. This will of-course affect your grip.
How Do You Determine Whether the Squash Racket Grip is Worn-out?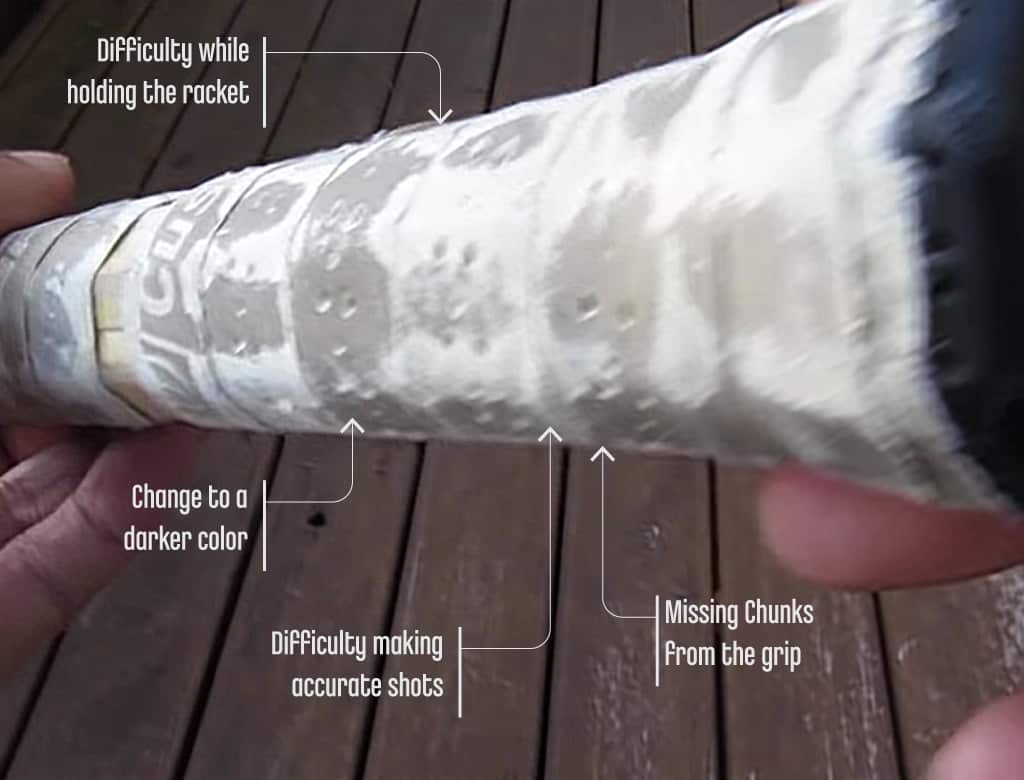 There are certain symptoms that will give you an idea as to whether your grip is worn-out or about to wear off.
Missing Chunks from the grip.

Difficulty while holding the racket – especially when making hard shots.

Changes from lighter to darker color.

Difficulty in making accurate shots.
Why Not Buy A Few Grips In One Go?
Take the plunge and buy a pack of grips – enough to last you a whole season. The market is saturated with grip tapes, so it's advisable to purchase in bulk. Some players have larger hands, and it's only right for them to have more than one grip.
Frequently Asked Questions
Should I put grip tape on the existing grip?
This is only possible if your racket has an overgrip. But if the grip is torn up, then you need to start from scratch. This serves to prevent rough appearances on the handle, which are uneven – this might affect your performance.
How do I choose the right grip?
We recommend that you buy different types of grips, that's if you're a beginner. This will give you an opportunity to experiment and test different grips. After some time, you'll have an idea of what works for you. But the key here is to find what you're comfortable playing with. Once you find out what works for you, then you can stick with it for consistency purposes. Considerations to make when buying a new grip – Tackiness/Stickiness – Thickness – Durability
How do I choose a squash racquet grip?
As we mentioned earlier, there are two types: 1) Replacement grips 2) Over-grips.
The over-grip can be installed over the factory stock grip. It improves the feel and thickness of the racket, allowing you to play comfortably. The replacement grip as the term implies is installed to replace the stock or default grip. However, you need to note that these grips are thicker compared to the overgrip.
For the overgrip, we recommend KARAKAL PU DUO SUPER GRIP. While considering the overgrip grip, we recommend the YONEX SUPER GRAP OVERGRIP.
Can you use a tennis grip for squash?
In our opinion, yes you can. Both tennis grip and squash grip have the same goal in mind – provide a better grip on your racquet when your hands are sweaty.
How do you Regrip a squash racket?
You regrip a squash racquet by first removing your current grip. Second, you remove any residue from the old grip on the racquet frame. Third, starting from the bottom of the racquet, begin wrapping the new grip around the racquet while slightly overlapping the grip each time. Finally, place a separate piece of tape at the top of the grip area.
Conclusion
In the above guide, we have looked at the crucial reasons why you need a grip. It stands to reason that most of your focus should be directed towards winning the game – not struggling with sweaty hands.
We've also looked at the symptoms that can warn you in-case the grip is work-out. Most importantly, you need to determine what the main priorities are in your game-play; this will give you the opportunity to make a smart purchase based on your needs.
We also have to mention that making regular replacements will sustain your performance. It will also boost your touch, power, and accuracy. All the best as you shop for your next squash racket grip.