[Updated on 1 July 2022] Is your little one interested in playing squash? Along with a racket, squash shoes should be at the top of your priority list.
Are you not sure which pair to choose? We review the best junior squash shoes on the market to help make your selection process easier.
| Image | Title | Comments | Check Price |
| --- | --- | --- | --- |
| Top | ASICS Junior's Upcourt 3 GS Squash Shoes | Best Value | Check Price |
| Top | Salming Adder Juniors Squash Shoe | *Editor's Choice* | Check Price |
| Top | YONEX Power Cushion Junior Squash Shoe | Safest | Check Price |
| Top | Salming Juniors' Hawk Squash Shoe | Most Popular | Check Price |
| Top | Salming Viper 3 Kid Squash Shoes | | Check Price |
| Top | Salming Junior's Falco Squash Shoes | | Check Price |
| Top | ASICS Kid's Gel-Resolution 7 GS Shoes | | Check Price |
How to Choose the Right Junior Squash Shoes
No doubt you want the best kids' squash shoes for your child. The pair you select will make the difference between a pleasant and unpleasant game. You want your child to be as comfortable as possible.
We list a few features to look out for to help you buy the right pair for your kid.
Comfort is Key
As previously highlighted, comfort is crucial when selecting a pair of junior squash shoes—or any shoes for that matter.
You want to buy a pair that's designed to offer ample cushioning for your child's feet. Remember that they will be running around the court in these shoes. Select a pair that's padded to absorb shocks during play. Also, consider the material used in the padding. Generally, shoes made up of Flyte foam are known to provide excellent cushioning.
Opt for shoes that offer stability and support as this will significantly reduce the risk of injury.
Durability
We're guessing you want the shoes you select to last long. Consider shoes made of high-quality material to guarantee durability. Where possible, opt for reputable brands that are known to design squash shoes made of superior quality.
Quality Outsole
The last thing you need is for your kid to slip while playing the game. This can be avoided by selecting squash shoes which feature high-quality outsoles that provide an excellent grip.
Does your child play for a club? Most clubs don't want members to wear shoes that leave markings on their courts. Buy shoes with a sole that doesn't leave any marks on the court so that your child doesn't get into trouble.
Removable Insoles
If possible, opt for a pair that has removable insoles. This way you can replace the soles with medical orthotics where necessary for even greater shock absorption.
Breathability
Sweating isn't uncommon during sport and feet aren't exempted. Choose a pair that are breathable to keep your kid's feet cool and fresh for the duration of the game.
Foot Shape
Does your kid have narrow or wide feet? Consider the shape of your child's feet to buy the right cut. Remember that squash is a very intense sport so wearing the right fit is vital.
Better yet, why not bring your child with you for squash shoe shopping. Have them try out the shoes. Ask them if their toes are touching the end of the toe bed. The right shoes must have enough room in that area.
Weight
Consider the weight of the shoes. Opt for lightweight sneakers to allow your child to move around the court with the utmost speed and ease.
How Often Should You Replace Your Kid's Squash Shoes?
Just because you've bought your child the most expensive pair of squash shoes doesn't mean that they should wear them till they outgrow them. It's paramount that you replace them often. When is the right time to replace them?
Frequency of Play
This largely depends on how often your child wears them. If your kid plays squash often—approximately twice a week—then it's advisable to replace them twice a season.
Sore Feet
The moment your child starts complaining of sore feet after a game, it's time to get them a new pair. This usually means the inside sole is starting to wear out, or their feet have grown and the shoes are now causing discomfort.
Inspect the Outer Edge
Inspect your child's shoes for damage—particularly paying attention to the outer edges. Once you notice that the edges are wearing out, it's time for replacement because grip is compromised.
Also, inspect if the sole is still intact. The moment it starts to separate then you need to replace the shoes.
Product Reviews
Here we have one of the best squash shoes for kids specifically designed for indoor courts. This pair will provide your child with that much-needed comfort during play. This is thanks to the EVA midsole and sock liner that'll deliver excellent rebound.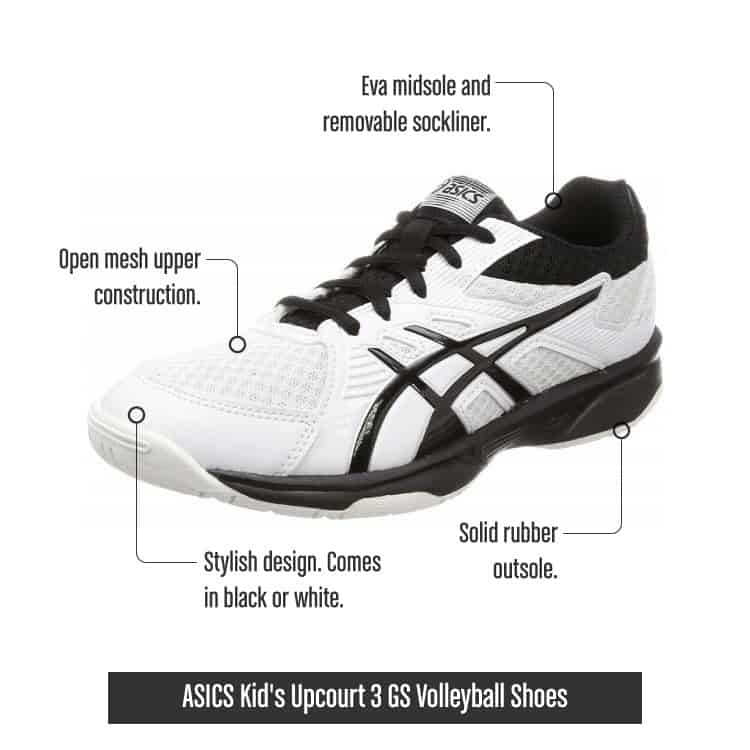 Does your child need extra cushioning and support? The sock liner is removable giving you the option to replace the shoes with a medical orthotic where necessary, for arch support.
Comfort aside, your child will certainly appreciate the stylish design. The pair is available in black and white; simply select your kid's favorite color.
The shoes have rubber soles to provide your child with ample grip and traction as they play.  It's clear how light the pair is. Your kid can move in them effortlessly. Plus, they will find these shoes easy to put on and remove.
Note that they tend to run big so make sure you buy one size down. This means that you don't have to worry about breaking in this pair. They'll fit perfectly and comfortably the first time.
Pros
Lightweight

Comfortable

Provides adequate support

Stylish
Cons
Here we have yet another stunning pair from the manufacturer Salming. These shoes also feature an attractive eye-catching color that your kid will love; they're available in turquoise and orange.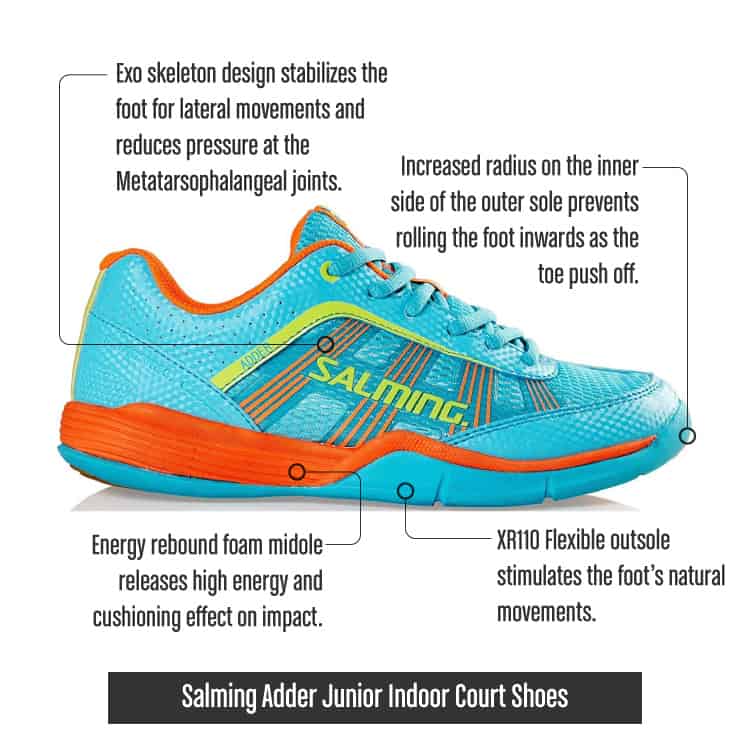 Let your child be the squash superstar they deserve to be with these youth squash shoes. They're ideally suited for professional squash players or someone intending to become one.
You can expect an excellent grip from these shoes that offer the same grip found in adult squash shoes.
Stability is guaranteed with these sneakers thanks to the stabilizers found on the pair. These shoes will enable your child to have the necessary speed and comfort needed to win the game. This pair allows for agility and is designed to adjust to each and every foot movement.
Note that this is one of the more expensive shoes from Salming, but the extra pennies are very much worth it.
Pros
Excellent grip

Visually appealing

Encourages speed and agility
Cons
If you want high-quality but affordable squash shoes for your young one then consider this pair from Yonex. Despite the reasonable price, you can still expect durability and optimum performance.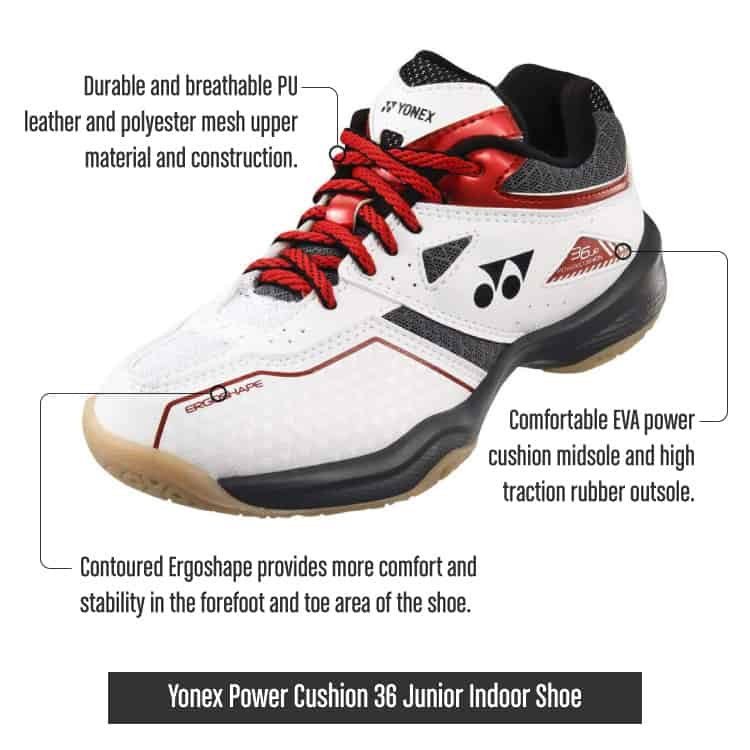 This pair is designed to offer reliable traction needed to navigate the squash court. Your child won't be suffering from foot fatigue because these sneakers are designed to offer cushioning to both feet and joints.
Moving on to the construction, you'll appreciate the high-quality materials used. These shoes are made using a combination of PU leather and polyester mesh. This not only makes them durable but breathable too. Your kid's feet will be kept cool and fresh throughout the game.
The midsole comprises an EVA power cushion which is known to provide adequate support to the feet. You can expect an excellent grip from this pair because the outsole is made of rubber.
The overall design is attractive as they come in a red and white color mix. Plus, they're lightweight too.
Pros
Lightweight

Ample support

Affordable
Cons
Your child is likely to be impressed by the stylish design of these squash shoes. They're available in an attractive blue and red color.
The shoes have a rubber sole that's designed to offer adequate grip during the game so your child doesn't have to worry about slipping. Thanks to the EVA midsole, the shoes will provide ample cushioning.
These shoes are designed to offer maximum support thanks to the Ergo heel cup. This type of cup is slightly longer than the regular heel cup to provide enough stability during the game. As a result, these shoes will offer great comfort and fit.
You'll appreciate how durable and lightweight this pair is. Made of a light rubber compound, your kid is provided with maximum grip to avoid accidental falls. This makes them ideal to use in indoor courts.
These shoes are designed to bend in the right places thereby stimulating natural feet movement while running across the court.
Your child's feet are kept nice and cool throughout the game because the shoes are lined with mesh making them breathable.
Pros
Lightweight

Durable

Stable

Good grip
Cons
If your child is a fan of bright colors, consider these orange squash shoes from Salming which are ideally suited for indoor sports.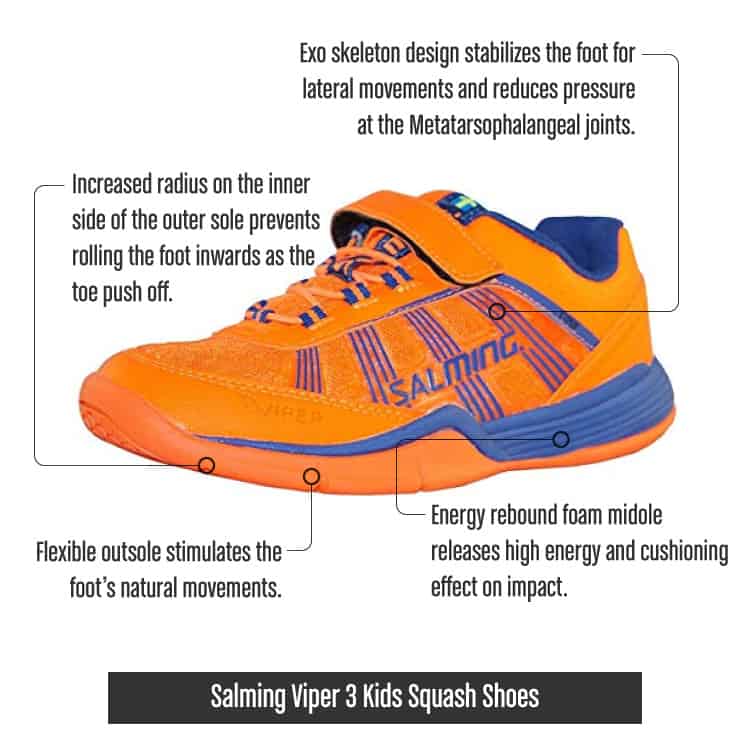 The shoes are made of synthetic material which is considerably lightweight. Your child can move around in them with ease.
They can expect adequate support from this pair that comes with stability features — they're designed to offer ample support to ankles and heels. Also, the risk of injury is significantly reduced.
Expect agility and quick movement needed to win a game with this pair. The sole is designed to offer maximum grip to avoid falls or slips. Also, thanks to the anti-roll feature, falls are minimized.
These shoes allow for ease of movement in addition to maximum comfort. Note however that they're a little on the pricy side.
Pros
Comfortable

Ample support

Maximum grip
Cons
Select this brand of squash shoes if you want a pair that provides your young one with extra cushioning. Because they feature a heel cushioning foam, these shoes provide 70% more cushioning compared to a regular sole.
These shoes are designed to relieve pressure off your child's joints as they play. Your little one won't be suffering from leg fatigue during the game. They will also provide much-needed stability. This way they can make the necessary lateral and forward movements during play with ease.
The lateral movements associated with playing squash tend to cause excessive friction between the shoes and the ground. Thankfully this won't cause any discomfort because the shoes are designed to bend in the right places. As such, natural feet movement is mimicked during play to ensure minimal discomfort.
The risk of injury is significantly reduced if you opt for this pair. This is because the shoes feature stabilizers that protect feet during play.
For such a great pair of shoes, be prepared to pay a little extra compared to other brands.
Pros
Lightweight

Allows for agility

Comfortable
Cons
Go with this pair if you're looking for a high-quality shoe designed for junior tennis and squash players. What caught our eye with this pair is the attractive design. They're available in nine different colors you can choose from. You're bound to find a color that your child likes.
The rubber sole will provide the necessary grip needed during play. They feature a low-top shaft which will provide ample support to the shaft.
One of the product's most invaluable features is the rear foot gel resolution system used on this shoe. As a result, your child can expect maximum cushioning because this system is designed for effective shock absorption. The same system will allow effortless feet movement during the game.
One thing you'll also appreciate is the guard toe feature designed to protect the toe from discomfort during the game. Also, these shoes are extremely comfortable without sacrificing that much-needed support.
Note that the shoes run big, so make sure to select the right size.
Pros
Protects toes

Provides cushioning and support

Comfortable
Cons
Final Words
From our recommendations, which pair is your favorite? Ideally, the squash shoes you select must be super comfortable for your child without compromising performance.
In our opinion, the Salming Adder Junior Squash Shoe tops the list. We'll admit that the color style is a huge plus. But more than anything we're impressed by how it ticks all the right boxes where safety, durability, and performance are concerned.
It'll provide your child with the necessary cushioning to eliminate foot fatigue to keep your child in the game.
But that's our view; the final decision lies with you.