Updated on 1 August 2023] Squash is a fun sport and one heck of a workout, so it is not surprising that a sport invented in the 1800s is still popular today. Squash does not require as much equipment as most of the other major sports, but it does need a few items. Unless you are a professional player you are probably not looking to spend an arm and a leg on your Squash gear. Casual players and weekend warriors rejoice because you came to the right place to find the best squash racquet under $100.
Just because one racquet is considered the best for one person doesn't mean that it is best for everyone. These reviews are based on several factors to decide which racquets are the best overall. To better understand which of these racquets is best for you it helps to know a little more about the features.
Does Price Matter?
Price is a factor, but it is not the only factor. Often people equate price with quality, and while the two are correlated, the most expensive product is not always the best.
A lot of people think that a racquet is a status symbol, but a price tag doesn't do a lot on the court. Even if you are a veteran of the sport there is no shame in having a budget racquet. Some players use cheaper racquets for practice, while others choose to invest their money elsewhere. Buying cheaper racquets with different features also allows you to test which features you like and which you don't when you eventually buy a more expensive racquet.
Why Are Squash Records so Expensive?
Materials
The materials used in the construction of these racquets are not cheap, and as science advances, they only become more expensive.
Durability
Players expect their racquets to take a beating, which means that they need to be made out of more expensive material. The more durable the racquet, the longer they last which means that the companies sell fewer products, so the product needs to cost more.
Features
Racquet companies are always looking for ways to improve their equipment for players. The more advanced technology is, the more it costs.
Popularity
There is something to say about brand recognition. Sometimes companies charge more for their racquets because of their reputation.
What Features Do I Need to Know About?
To decide which racquet is best for you, you must first know more about the overall features of racquets.
Weight and Balance
The weight of the racquet is a major factor in your gameplay. A lighter racquet allows for a faster swing, but a heavier racquet gives you a more powerful strike. The balance of the racquet has an equal effect on the speed and power of your swing. A heavier head slows down the swing and gives it more power while weight in the handle allows for a faster swing. Many of the best racquets take a balanced approach with the head and handle being equally weighted.
Racquet Dimensions
The dimensions of a racquet affect gameplay in a similar way to the weight and balance. A large racquet head gives you more power and a larger sweet spot, but you lose precision. A smaller head gives you less power and a smaller sweet spot, but you have a lot more control over your ball.
One overlooked dimension that is important to note is the beam or the width of the racquet head. Beams can range in width from 15 to 25mm. A thinner beam gives more bend to the racquet for speed while a wider beam is stiffer, so it gives a bigger sweet spot and more power.
Throat
The throat is the part of the racquet where the handle meets the strings. A racquet can either have a closed throat or an open throat. A closed throat has a gap between the strings and the handle and offers more control and stability. With an open throat, the strings meet the handle creating a teardrop shape that gives more power to your swing.
Strings
The strings are an important part of the racquet, but they are more complex than most people realize. Texture, patterns, thickness, and tension of the strings all play a part in the overall way your racquet plays. Less expensive nylon strings are smooth, so they don't grip the ball at all leading to less control. Thicker strings and more dense weaves make for better ball control while a more open weave offers more power.
What if The Racquet Isn't Perfect for Me?
There are certain features of the racquet that you can't change like the weight, but there are a few that you can customize to make the racquet perfect for you. Even the best racquets need to be restrung every once in a while so if you like everything about your racquet but the strings, don't worry because you can change them later. Another feature that can be changed instantly is the handle grip. Many players will add grip or a slip-on grip cover before they ever play to make the racquet feel better in their hands. Some players also install a tool called a vibration dampener, which keeps the strings from vibrating too much after a strike.
Is There Anything Else to Know Before I Buy?
If you are new to squash, you'll want to consider buying some safety gear at the same time.
There is a lot of sales jargon when it comes to squash racquets, so stick to the basics when choosing the best racquet for your needs.
There are multiple weights of squash balls, and they are all marked with a colored dot. Double yellow balls are competition, and blue dot balls are a beginner. Make sure that you are testing your racquet on a blue dot ball if you are trying it before you buy.
The Best Squash Racquets
With so many different companies and models of racquets, it is intimidating to choose the right one, but these are overall some of the best on the market.
Head is one of the most popular racquet brands, and it shows in equipment like this. This racquet is made from a combination of carbon fiber and silicon, which makes it strong but lets it give a little with minimal vibration. The bit of giving offers a punch of power to your shot thanks to the two holes toward the top of the racquet that allow the top half of the head to flex backward.
At 145 grams, this is a heavier racquet than many other racquets in its class. Though a lot of beginners would list this as a negative attribute, a slightly heavier racquet is not a bad thing in the hands of a pro. The head is light, and the handle is thin, which means that this is a well-balanced racquet that feels good in your hand. A nice thing about a thin handle is that you can always add more grip tape.
The Microgel 145 offers a lot of power, but it also offers a surprising amount of control. It has an open throat and noticeably wider space between the strings, which helps with power but also creates a larger sweet spot. This is certainly the most unique racquet on this list and one of the most unique period; thanks to all of its features it is the perfect racquet for a newcomer or a veteran.
Features
MicroGel Technology-

 This racquet incorporates Head's proprietary MicroGel technology, a unique silicone-based material mixed with stiff and strong carbon composite fibers. This technology enhances the racquet's feel, control, and responsiveness while minimizing vibrations upon ball impact.

Head Size-

 The racquet's mid-plus head size balances power and control. This size ensures a more prominent sweet spot, allowing for more forgiving shots and improved accuracy.

Frame Construction-

 The racquet's frame uses MicroGel and carbon composite materials. This blend results in a lightweight yet sturdy frame with excellent power and maneuverability.

String Pattern-

 It has a dense string pattern, typically 14×17 or 16×17, which promotes better ball control, increased spin potential, and enhanced touch.

Balance-

 The Head Microgel 125 has a slightly head-heavy balance, offering a good blend of power and stability. This balance allows players to generate power in their shots while maintaining control over their swing.

Grip-

 Equipped with a comfortable grip that provides a secure and ergonomic hold, allowing players to maintain a confident and controlled grip during intense rallies.

Weight-

 This racquet is designed with a medium weight, making it suitable for various playing styles. The importance provides both offensive and defensive players stability, control, and maneuverability.

Shaft Flexibility-

 The racquet typically features a medium to slightly stiff shaft, balancing power and control. This flex allows players to generate power from their swings while maintaining accuracy.

Aerodynamic Shape-

 The racquet's streamlined and aerodynamic shape reduces air resistance, enabling faster swing speeds and better racquet head acceleration.

Player Level-

 The Head Microgel 125 Squash Racquet is generally recommended for intermediate to advanced players due to its balance of power and control. It allows players to take their game to the next level by exploiting its features effectively.

Cosmetic Design-

 While not directly impacting performance, the racquet often features a visually appealing design with Head's branding and aesthetics, adding to the overall appeal for players.
Pros
The Flexpoint technology offers unmatched power even for new players.
Perfectly balanced in weight as well as in power and control.
Surprisingly durable for a racquet in its class.
Cons
Some beginners may not like the weight of this racquet.
The heavier the ball is, the less effective this racquet gets.
The handle may be a little undersized for some individuals.
This is another great item by Head that is balanced in every way. This particular model has been around for a while, and it remains a favorite among players. It is constructed from a nano-titanium, which makes it strong but lightweight. The open throat combined with great strings makes for an easy to find sweet spot.
The Nano Ti only weighs 110 grams, but it is head heavy which gives it more power despite its lightweight. Most people will find the grip to be comfortable, but as your swing improves you may find the lightweight racquet combined with an efficient swing makes the handle harder to grip. This racquet is made with Head brand quality so it will stay structurally sound, but the titanium scuffs and dents easily so you may find that your racquet doesn't look too pretty after continued use. At a reasonable price this is one of the best racquets for those breaking into the sport or a casual player who is looking to save money without sacrificing quality.
Features
Microgel Technology-

 The racquet incorporates Head's Microgel technology, which involves a silicone-based material strategically placed in the frame. This technology helps to distribute and absorb impact forces, providing a comfortable feel while minimizing vibrations upon ball impact.

Robust Frame-

 The 125-gram frame offers a balance between power and control. It's especially suitable for players who want to generate significant influence in their shots while maintaining precision and accuracy.

Head Shape0-

 The racquet typically features a traditional head shape with a medium-sized sweet spot. This design allows for a good balance of control and power, making it suitable for various playing styles.

String Pattern-

 The racquet usually employs a dense string pattern, such as 14×17 or similar configurations. This tight string pattern enhances ball control and offers higher shot placement accuracy.

Lightweight Feel-

 The racquet is considered light, weighing around 125 grams. This enables players to maneuver the racquet quickly and react swiftly to the fast-paced nature of squash.

Stiffness-

 The racquet's stiffness contributes to its power potential. A slightly stiffer frame can help transfer more energy to the ball, resulting in powerful shots.

Grip Technology-

 The racquet often has specialized grip technology to enhance control and prevent slipping during intense gameplay. This grip technology ensures a secure and comfortable hold on the racquet handle.

Construction Materials-

 The construction might include graphite and Microgel materials. These materials provide a good balance of strength, durability, and shock absorption.

Balance Point-

 The racquet's balance point is typically head-heavy, promoting powerful shots by providing additional momentum to your swings.

Aerodynamic Design-

 The frame might feature an aerodynamic design that reduces air resistance and allows for faster racquet head speeds, aiding in quicker reactions and shot execution.

Recommended Skill Level-

 The Microgel 125 is aimed at intermediate to advanced players seeking a racquet with power-focused characteristics that can enhance their playing style.

Vibration Dampening-

 Thanks to the Microgel technology, the racquet helps reduce vibrations, making it more comfortable to play with and reducing the risk of discomfort or injury due to excessive vibrations.

Manufacturer's Warranty-

 Head typically offers a limited warranty for their racquets, providing players with confidence in the quality and durability of the product.
Pros
A lightweight and head heavy racquet that gives great power to beginners.
A longer racquet and easy to find sweet spot gives beginners power without sacrificing control.
A fantastic price for a quality racquet from a reputable company.
Cons
The lightweight titanium scuffs and dents easily.
As your swing technique improves, this racquet becomes harder to hold.
While it is great for practice, the Head Nano Ti is not a racquet that will grow with a player, so it may need to be replaced or downgraded to a backup as the player progresses.
Pro Impact is not a household name like Head or Dunlop, but that doesn't stop them from making a nice racquet. It doesn't do anything for function, but this racquet has a great color pattern, and it comes with a similar colored carrying case, which is a bonus. The body is constructed out of graphite, which makes it lightweight but impressively durable.
The teardrop shape and open throat design create a trampoline effect that gives great power even to beginners. This racquet doesn't sacrifice anywhere because even with the added power, you still get great accuracy. The handle width is pretty standard, and since this is such a light racquet the weight is pretty evenly balanced. Since the head doesn't weigh much it doesn't put too much strain on your grip.
What makes this racquet stand out is that it is perfect for every skill level. A pro won't have a problem using it, and it will improve a beginner's game. The lightweight frame make it a fantastic racquet for pre-teens and teens that are serious about their craft.
Features
Graphite Construction-

 Constructed using premium graphite materials, this racket provides a lightweight yet sturdy frame that enhances maneuverability and power generation.

Head Shape-

 The racket's head is engineered with a balanced head shape, striking a harmonious blend between control and power, making it suitable for various playing styles.

Stringing Pattern-

 The racket features a stringing pattern that optimizes the sweet spot, ensuring consistent and accurate shots with reduced vibration upon impact.

Grip Technology-

 With its advanced grip technology, this racket provides a comfortable and secure hold, so you won't have to worry about slipping, even during those intense rallies.

Frame Rigidity-

 The racket's frame has been designed for optimal rigidity, translating into enhanced control over shots and improved accuracy.

Aerodynamic Design-

 The sleek and aerodynamic frame design reduces air resistance, enabling swift and smooth swings through the air for quick reactions and rapid shots.

Balance Point-

 With a carefully calibrated balance point, the racket balances head-heavy and head-light, catering to offensive and defensive players.

Vibration Dampening-

 The incorporation of vibration-dampening technology minimizes vibrations upon ball impact, reducing strain on your arm and providing a more comfortable playing experience.

Extended Handle Length-

 The symbolic handle design offers players more leverage and a wider grip, enhancing maneuverability and control over shots.

Enhanced Power Zone-

 The racket features a specific Power Zone on the strings, engineered to amplify the power of your shots, especially during aggressive drives and smashes.

Shock Absorption System-

 Built-in shock absorption mechanisms in the frame reduce the impact on your arm and wrist, promoting longer and more comfortable gameplay.

Strung Weight-

 The strung weight of the racket is optimized to strike a balance between power and control, enabling you to adapt your gameplay as needed.

Versatility-

 The Pro Impact Graphite Squash Racket is suitable for players of varying skill levels, offering versatility that accommodates both beginners and experienced players.

Sleek Aesthetics-

 The racket features a visually appealing design that combines style with functionality, making you stand out on the court.

Carrying Case-

 The package includes a protective carrying case for the racket, ensuring its safety during transportation and storage.
Pros
Graphite construction makes it feather-light but incredibly durable.
It offers a ton of power without sacrificing accuracy.
A well-balanced racquet that will not strain your grip or fly out of your hand.
Cons
A good racquet, but not elite.
It doesn't have much flexibility when hitting the ball.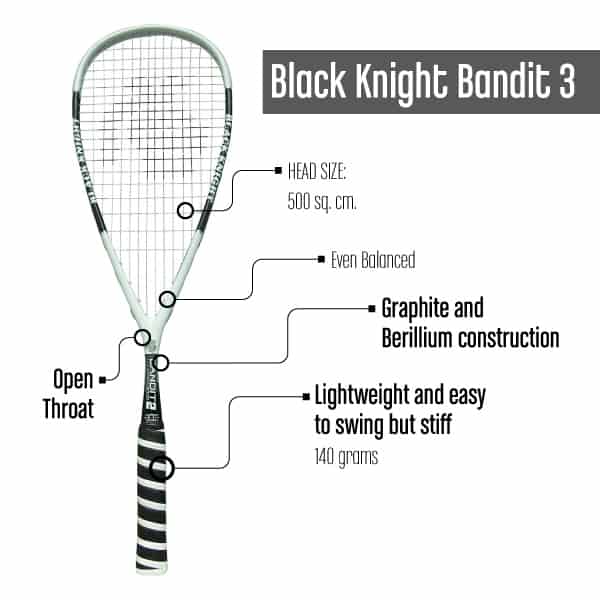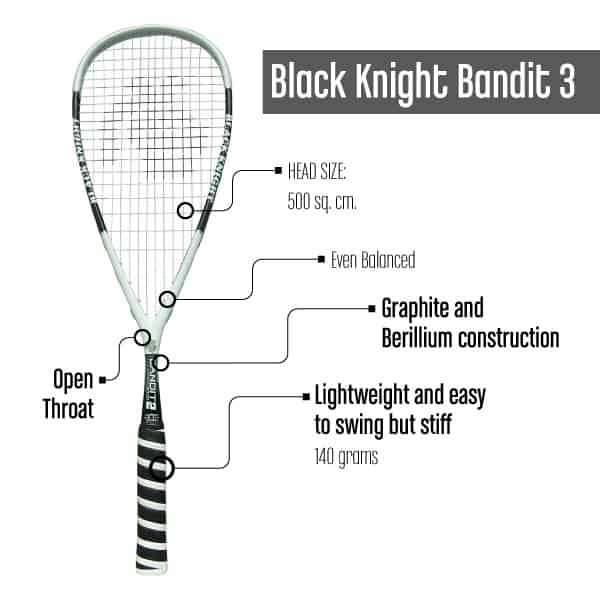 The name sounds cool, but the racquet is even cooler. As an updated version of one of their most popular racquets, Black Knight has improved on its design. It is made with a combination of graphite and Berillium which makes it durable and fairly stiff which is an advantage for some and a disadvantage for others.
There are several features that make this a popular choice in its price range, but the top one has to be the grip. There is never a fear of losing your racquet mid-swing, and it never strains the hand or leaves blisters. Even with a head heavy design, this racquet feels more balanced thanks to that grip. The teardrop-shaped head has an open throat, but unlike a lot of other racquets, this design does not give it a lot of bounce.
The Bandit 3 is not meant for beginning players. It has a small sweet spot that is better suited for intermediate to advanced players. This racquet is on an island by itself because it is fantastic for the price and a great practice racquet for advanced players, but it is not a great racquet for competition.
Features
Construction-

 The Black Knight Bandit Squash Racquet is designed with advanced materials and construction techniques to provide players with a responsive and powerful playing experience.

Frame Shape-

 The racquet features a teardrop-shaped frame with a more prominent sweet spot, enhancing the potential for better shots and reduced mishits.

Balance-

 It offers a balanced weight distribution, making it suitable for various playing styles – from aggressive power hitters to control-oriented players.

String Pattern-

 The racquet's string pattern is optimized to deliver an optimal blend of power and control, allowing players to execute various shots precisely.

Grip-

 The racquet has a comfortable and tacky grip that helps players maintain control and stability during intense rallies.

Technology-

 Incorporates advanced racquet technology such as vibration dampening systems to minimize shock and vibrations upon ball impact, reducing the risk of arm strain.

Durability-

 The construction materials used in the racquet's frame are chosen to ensure a longer lifespan.
Pros
A racquet that is lightweight and easy to swing but stiff.
A fantastic grip that allows for a strong grip without putting wear and tear on your hands.
A great practice racquet for professionals.
Cons
The stiffness of the graphite and Berillium combination is a turnoff to some.
A small sweet spot means that you have to hit the ball just right.
This racquet has its place, but it is a little one dimensional as a piece of equipment that is best only used in certain settings.
If budget is the biggest concern, you can't go wrong with this inexpensive but reliable racquet. Prince is a popular racquet company that has been around for ages. From the look of it you would never be able to tell that it is a budget product. At 180 this racquet is still light but noticeably heavier than more expensive graphite and carbon racquets. It is made from a mixture of titanium and aluminum which makes it durable but not resistant to scuff and dents.
Although this racquet is slightly heavier, it is balanced to be headlight so the majority of the weight is in the handle. The head is slightly smaller than average, but thanks to an open throat and a fanned out string pattern, it has a large sweet spot. This racquet is not designed for big power shots; instead, it is a great racquet for practicing precision ball placement.
As a budget racquet, the part that suffers the most is the grip. The good news is that grips are replaceable if it falls apart or doesn't feel right in your hand. The Inspire 200 is a racquet that is best suited for a beginner or a casual weekend player who is not ready to invest in a more expensive racquet. It is not meant to last forever, but if it is properly cared for, it will last a while.
Features
Frame Composition-

 The Prince Team Inspire 200 Squash Racquet is constructed using a blend of materials to balance power, control, and durability.

Head Size-

 It features a mid-sized head, which offers a mix of power and control. The smaller head size allows for more excellent maneuverability and precision shots.

String Pattern-

 The racquet has a dense string pattern, usually around 16×17 or 14×17, which aids control and shot placement. It can help players execute precise shots and maintain control over the ball.

Weight-

 The racquet is generally designed to be lightweight, which makes it easier to maneuver and react quickly on the court. This is especially beneficial for players who prioritize speed and agility.

Balance-

 It typically has a slight headlight or even credit, which can contribute to quick racket handling and better control over shots.

Grip-

 The grip of the racquet is crucial for comfort and control. Most models come with a comfortable grip that helps prevent slipping during intense rallies.
Pros
One of the most inexpensive racquets on the market, but still made with legendary Prince quality.
A perfect racquet for practicing placing your shots.
It is head light, so the extra weight does not slow down your swing.
Cons
Made from a composite alloy that makes it a heavier racquet and more susceptible to scuff and dings.
It's not made for power shots, so it is not a great racquet for anyone other than beginners.
The grip suffers in this budget model and will most likely need to be replaced.
You are introducing the Squash Galaxy Intro 5000 Series – the epitome of innovation and excellence in squash racquets. Meticulously designed to redefine performance, power, and precision on the court, our range of racquets pushes the boundaries of what is possible. Whether you're an aspiring beginner or a seasoned professional, the Intro 5000 Series is designed to elevate your game to new heights. With cutting-edge technology, ergonomic design, and a commitment to quality, these racquets are poised to redefine how you experience squash. Get ready to embark on a journey of unparalleled play and discover a galaxy of possibilities with the Squash Galaxy Intro 5000 Squash Racquet Series.
Features
Advanced Composite Construction-

 The Intro 5000 Series boasts a state-of-the-art composite construction that combines lightweight materials with exceptional durability. This composition enhances maneuverability without compromising on strength.

Optimized Power Zone-

 These racquets feature an enlarged sweet spot and optimized power zone strategically positioned to maximize power and control in every shot. This technology empowers players to hit consistent shots with precision.

Vibration Dampening System-

 Squash Galaxy has integrated a vibration-dampening system into the racquet's handle, reducing the impact felt by the player's hand and arm during play. This technology enhances comfort and minimizes the risk of strain-related injuries.

Aerodynamic Frame Design-

 The racquets are engineered with an aerodynamic frame design to minimize air resistance, allowing for swift and accurate swings. This design element enables players to respond quickly to fast-paced rallies.

Grip Comfort and Control-

 The racquets have an ergonomic grip for maximum comfort and control, promoting accurate shots and preventing slips during intense matches.
Pros
Powerful Performance-

 The optimized power zone and composite construction synergize to deliver potent shots, making the Intro 5000 racquets ideal for players who seek to dominate the court.

Versatility-

 These racquets cater to a wide range of players, from beginners to experienced athletes. The enlarged sweet spot accommodates varying skill levels, allowing players to adapt and improve their game.

Reduced Vibration-

 The vibration-dampening system is a significant advantage, especially for players prone to discomfort or injuries caused by vibrations during play.

Responsive Handling-

 The aerodynamic frame design contributes to responsive handling, granting players the agility to react swiftly and effectively to different game situations.

Durable Build-

 The advanced composite construction ensures longevity, even with regular and intense gameplay. This durability provides players with a reliable investment in their equipment.
Cons
Price Point-

 The innovative features and advanced technology of the Intro 5000 Series racquets may be reflected in a higher price compared to more basic racquet models.

Preference Variability-

 While the racquets are designed to cater to a broad audience, individual player preferences can still vary. Some players prefer racquets with different weight distributions or balance points.

Skill Dependent-

 Although the racquets are versatile, players at extremely high skill levels might prefer racquets with highly specialized features that cater to their precise needs.

Adaptation Period-

 Switching to a new racquet, even one with advanced features, might require a brief adaptation period for some players to harness its capabilities thoroughly.
The Squash Galaxy Intro 5000 Squash Racquet Series offers advanced technology, performance-enhancing features, and durability. While the racquets come with a higher price point and individual preferences may vary, they are poised to elevate players' game across different skill levels, providing a winning combination of power, precision, and comfort.
Welcome to the world of squash with our Deluxe Squash Starter Kit Series! Whether you're a seasoned athlete looking to explore a new sport or a complete beginner taking your first steps onto the court, our comprehensive starter kit has been meticulously crafted to provide you with everything you need to embark on your squash journey. From high-quality racquets that offer superior control and power to specially designed attire and essential accessories, our Deluxe Squash Starter Kit is your gateway to experiencing the excitement and challenges of this dynamic and exhilarating sport. Prepare to elevate your game and make squash integral to your lifestyle.
Features
High-Quality Squash Racquet-

 The kit includes a premium squash racquet that boasts a balanced combination of power and control, enabling players to refine their skills confidently.

Durable Carrying Bag-

 The kit comes with a spacious and sturdy carrying bag, making it convenient to transport your gear to and from the court while keeping everything organized.

Variety of Squash Balls-

 The series offers a range of squash balls suited for different skill levels. It allows beginners to start with a slower ball and gradually progress to faster ones as they improve.

Comfortable Attire-

 The included attire provides comfort and flexibility during matches, allowing players to move freely and focus on their game without distraction.

Grip Accessories-

 The kit features grip-enhancing accessories like overgrips and grip tape, ensuring players can maintain a firm hold on the racquet even during intense gameplay.
Pros
Comprehensive Package-

 The Deluxe Squash Starter Kit provides a one-stop solution for those new to squash, eliminating the need to purchase individual items separately.

Quality Equipment-

 Including a high-quality racquet and durable accessories ensures that players receive reliable gear that can withstand the demands of regular practice and play.

Progressive Learning-

 With various squash balls catering to different skill levels, beginners can gradually advance to faster balls as their technique and confidence improve.

Convenience-

 The convenient carrying bag ensures all your squash gear stays organized and effortlessly accompanies you to practice sessions or thrilling competitive matches.

Value for Money-

 Purchasing the kit as a package generally offers cost savings compared to buying each item individually.
Cons
Skill Level Limitation-

 While the kit is well-suited for novice and intermediate players, advanced players may eventually find some of the included equipment less suitable as they refine their skills.

Personal Preferences-

 Players might have preferences for racquet weight, balance, or grip size that may not align perfectly with the provided racquet.

Limited Customization-

 The kit offers a pre-selected combination of items, limiting the ability to choose specific brands or models for each component.

Apparel Sizes-

 The sizing of included attire may not fit all body types perfectly, potentially leading to minor discomfort for some players.

Lack of Specialization-

 The kit is designed to cater to a broad audience, resulting in a lack of specialized features that certain players might prefer.
In conclusion, the Deluxe Squash Starter Kit Series presents a convenient and comprehensive solution for newcomers to the sport, providing quality equipment and essential accessories to kickstart their squash journey. While it might not cater to highly specialized preferences or advanced players, it offers excellent value for those looking to start and make their mark on the squash court.
DUNLOP Squash Court Pack
Dunlop Blaze Inferno Squash Racquet (Frame Weight 175 grams. Head Size 500 sq. cm)

Vision Protective Eyewear

Dunlop Pro Double Yellow Dot Ball

Dunlop Competition Single Yellow Dot Ball

Carrying case with shoulder strap. RACQUET COMES FACTORY STRU
The DUNLOP Squash Court Pack is your ultimate solution for a comprehensive squash game set. Carefully crafted by the renowned sports equipment maker, DUNLOP, this pack is designed to fully equip beginners and intermediate players with the essentials needed to immerse themselves in the dynamic world of squash. Offering unrivaled quality and value, the pack features a range of carefully selected items, ensuring an optimal squash experience.
Features
Premium Racket-

 The pack has a top-notch squash racket that packs a punch! It's all about power and precision, allowing players to unleash accurate shots with maximum force.

Durable Carry Bag-

 The carry bag is meticulously engineered to endure the demands of transportation and storage, offering a convenient solution to keep your squash gear orderly and safeguarded.

Assorted Balls-

 The pack provides a range of squash balls tailored to various skill levels, enabling players to select suitable balls based on their game and practice requirements.

Grip Enhancements-

 With its innovative grip technology, the racket provides exceptional control and comfort, minimizing the risk of slippage during intense matches.

Protective Eyewear-

 Safety is a top priority here, so we ensure to include protective eyewear. It offers essential eye protection without compromising visibility while you're in the game.
Pros
Comprehensive Set

–

 The pack offers squash players all the essential elements in one convenient package, streamlining the process of selecting individual items and saving valuable time and effort.

Quality Equipment

–

 DUNLOP is well-known for making top-notch sports equipment, ensuring players get durable and reliable gear built to handle the demands of squash.

Versatility

–

 The different squash balls in the assortment are designed to cater to players of various skill levels so that everyone can find the right fit for their squash journey.

Improved Performance-

 The advanced racket design and grip technology can significantly enhance performance by enabling players to exert greater control and power over their shots.

Safety Focus-

 The incorporation of protective eyewear highlights the dedication to player safety, mitigating the potential for eye injuries while ensuring optimal visual clarity.
Cons
Limited Customization-

 Players who prefer specific racket or accessory brands may need to be more flexible in personalizing their equipment due to the restricted selection included in the pack. 

Skill Level Variance-

 While the pack offers a variety of squash balls, some players might require a more specialized ball for their particular style of play.

Preference Differences-

 Squash players have unique racket weight, balance, and grip size preferences. The included racket might only partially match everyone's tastes.

Extra Equipment-

 Players who already own some of the included items, such as eyewear or a racket, might consider some components of the pack-redundant.

Price Point-

 Depending on what's included and the brand reputation, the DUNLOP Squash Court Pack might be priced a bit higher than if you were to buy each item separately.
Racquet Round-Up
Just because these are not the most expensive racquets on the market doesn't mean they aren't great. Each of these racquets has desirable features that players will love, but one of them stands out amongst the budget crowd. The winner of the budget models has to be the Head Microgel 145.
Most of these racquets are meant for beginning players. An advanced player will still feel comfortable with the Head Microgel in their hands. The Microgel 145 is the most technologically advanced of all the racquets on this list. It feels perfectly balanced in your hand and allows beginners to generate power shots while not sacrificing accuracy. It is also a durable racquet, so it stretches your money farther because it doesn't need to be replaced often. The fact that it is made by one of the most reputable companies in the industry doesn't hurt either.
Finding a decent racquet under $100 is difficult, but it is not impossible. There is a racquet on this list for every player, no matter the skill level.
FAQs
Q1. Can I find a good quality squash racquet under $100
 Absolutely! You'll find plenty of top-notch squash racquets in the market that deliver fantastic performance and durability, all within the $100 budget range.
Q2. What factors should I consider when choosing a squash racquet under $100?
Consider weight, balance, grip size, and material when choosing a racquet. You want to find one that fits your playing style and skill level.
Q3. Are cheaper racquets suitable for beginners?
Certainly! Numerous affordable racquets are highly suitable for beginners. They offer a good balance of control and power to help you develop your skills.
Q4. Which brands offer the best affordable squash racquets?
Brands like HEAD, Wilson, Tecnifibre, and Dunlop offer a range of quality racquets under $100.
Q5.  Is a lightweight or heavy racquet better for me?
The optimal choice and playing style are contingent upon your personal preferences. Lighter racquets offer more maneuverability, while heavier ones provide more power. Try both to see which suits you better.
Q6. Can I get a racquet with a large sweet spot in this price range?
Some racquets under $100 come with more prominent sweet spots, benefiting players looking to enhance their accuracy and consistency.
Q7. Are there racquets suitable for both casual and competitive players?
Absolutely. Many affordable racquets are versatile enough to serve casual and competitive players well.
Q8. Should I prioritize power or control in a budget racquet?
Striking a balance between power and control is essential. Look for a racquet with a good balance that aligns with your playing style.
Q9. Can I upgrade to a better racquet as I progress?
Of course. You consider investing in a more advanced racquet as your skills improve. However, many budget options can still serve you well as you advance.
Q10. Is it worth getting a pre-strung racquet, or should I restring it myself?
Pre-strung racquets are convenient, but restringing allows you to customize the string tension. It's a personal choice based on your skill level and preferences.
Q11. How long can I expect a budget racquet to last?
 With proper care, a budget racquet can last a reasonable time. However, higher-end racquets offer more excellent durability in the long run.
Q12. Can I try a racquet before purchasing it?
It's a good idea to try a racquet before you make a purchase. Some stores or clubs offer demo racquets to try out before you decide.
Q13. Are there any specific racquets you recommend under $100?
While specific models may vary, consider racquets such as the HEAD Nano Ti 110, Wilson Hyper Hammer 120, and Dunlop Hyperfibre XT Revelation 125. Always read recent reviews and do your research before buying.
Q14. Where can I buy these racquets for under $100?
Sporting goods stores, online retailers, and specialized squash equipment shops are good places to find these racquets within your budget.
Conclusion
In conclusion, finding the best squash racquet under $100 is achievable and offers a broad range of options catering to different players. Whether you're an enthusiastic beginner, a casual player, or a competitive athlete on a budget, plentiful choices are available from trusted brands such as HEAD, Wilson, Tecnifibre, and Dunlop. These racquets combine affordability with performance, providing the perfect balance between power, control, and durability. When choosing equipment for your sport, it's essential to match factors like weight, grip size, and credit to your playing style and skill level. Remember, a more expensive racquet doesn't necessarily mean better performance and many budget-friendly options can serve you well as you progress. The ability to try a racquet before purchasing can also help ensure the right fit for you. By carefully comparing options and considering your unique needs, you can find a high-quality, affordable racquet that enhances your gameplay and brings even greater enjoyment to your squash experience. Ensure to look for recent reviews and conduct thorough research before purchasing.