[Updated on 1 July 2023] As you move up in improving your skills in squash during practice or by playing a lot of games, you may find yourself not being able to perform the racquet techniques and plays as you did before when your racquet was new. You can wonder and inspect your racquet for signs of wear or a crack in the frame, but it could also be your squash racquet strings starting to wear out and lose tension. It may be time to restring your racquet with new strings!
On my first trip to restring my racquet, I was presented with a buffet of options on how I would like my racquet restrung. He asked what I would like to have done, and I said "what do you recommend?!"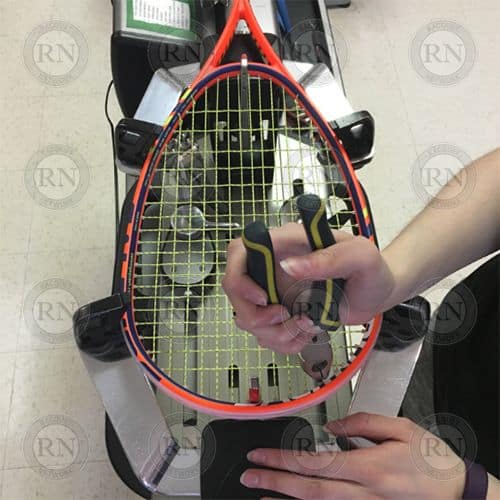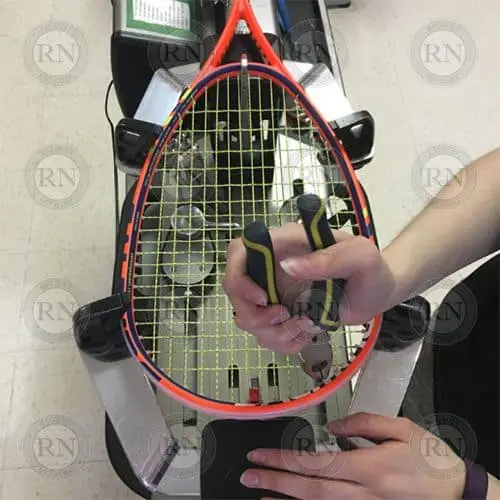 After my experience and having since gone back to have my racquet restrung several times, below are the few things to consider before going to a restringing shop to have your squash racquet restringing. Most of these decisions are based on your own personal preference and a good stringing professional will ask you the right questions to give you the right fit.
GROMMETS
Grommets protect the strings from breaking. Every time the strings vibrate it rubs itself to the frame and can cause a tear in the string. Having this replaced the same time as you would your strings is recommended to lessen the chance of your racquet strings from snapping.
CROSSES
Crosses are the strings that run across the racquet head. The crosses vibrate against the mains making 'notches' or deep microscopic cuts and eventually cause the mains to break.
MAINS
Mains are the strings that run vertically. These are the longer strings with higher rebound strength than the crosses. Transfers more power to the ball as it bounces off the racquet face.
STRING TENSION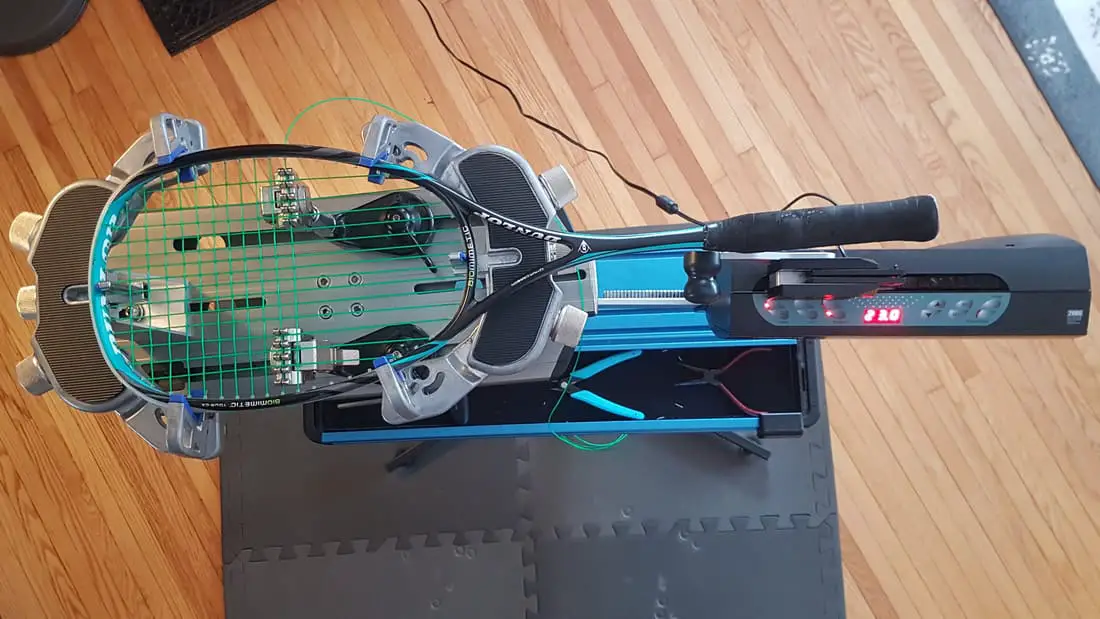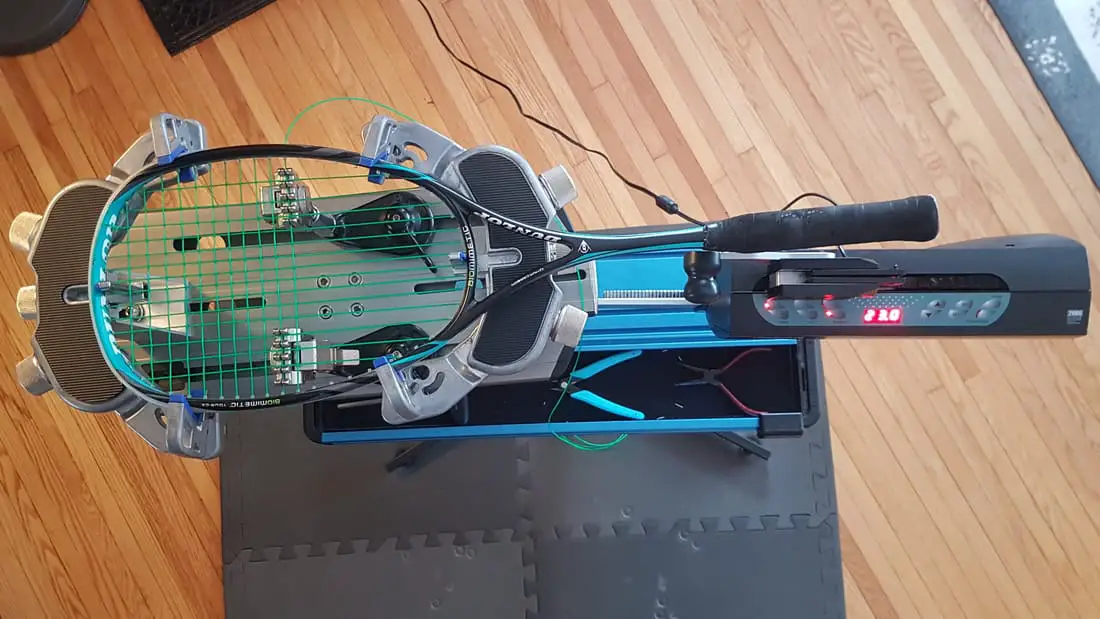 HIGH – 28 Ibs. or above
High tension makes the ball easier to control as it bounces off the racquet face but transfers lesser energy on the ball making the swing less powerful. Best played by deceptive players relying more on drop shots and reverse corner shots rather than power shots.
MEDIUM – 24 – 27 Ibs.
Most likely the tension when you first used your racquet. Racquets are stringed at a high tension from the factory to account for storage as it loosen up due to string aging. Recommended tension for new players for the balance between power and control.
LOOSE – 22 – 24 Ibs.
Transfer higher energy to the ball as the strings act as a spring giving more power to the swing but makes the ball harder to control on touch shots and spins.
VERY LOOSE – 21 lbs. or under
Best for serves but very poor for actual game play, especially as you get closer to the wall. Gives big power to the ball but makes it harder to control the ball.
STRING GAUGE
17 GAUGE – THICKER STRING (1.16 – 1.25 mm)
Less flexible than a thinner gauge string creating less of a power transfer from the racquet face to the ball but more durable than thinner strings.
18 GAUGE – THINNER STRING (1.06 – 1.15 mm)
Stretches farther giving a "spring" effect which will give more power to you and makes the racquet lighter to swing because of less air friction. Thinner strings are less durable and lose string tension much faster than a thicker gauge string.
STRING COMPOSITION
NATURAL GUT
Softer strings made from animal intestines and holds string tension longer than synthetic ones. Natural gut strings are efficient but are susceptible to moisture and humidity and are more costly in comparison to other types of strings.
SYNTHETIC STRINGS
Mostly composed of nylon to replicate the characteristics of a natural gut at lower costs. Manufacturers may even make use of other materials such as kevlar or polyurethane to make it more resilient and improve tension retention.
I hope this squash racquet strings guide has helped you in taking care of your racquet. Please share your thoughts in the comment. Thanks!
String Construction
Squash string construction refers to the composition and design of strings used in squash racquets. The strings determine a squash racquet's performance, feel, and durability. Here is some information about squash string construction:
Material- Squash strings are typically made from synthetic materials such as nylon, polyester, or a combination. These materials provide strength, elasticity, and control.
Gauge- The thickness of a string is referred to as its gauge. Squash strings usually come in various gauges, ranging from 17 to 18 gauge. Thinner strings (higher gauge number) offer more power and feel but may sacrifice durability, while thicker strings (lower gauge number) provide increased durability but can result in reduced playability.
Construction Types- Squash strings can be constructed differently, influencing their playing characteristics. The most common construction types include:
Monofilament- Monofilament strings are made from a single, solid strand of material. They offer good durability and control but may need more of the power and comfort found in other constructions.
Multifilament- Multifilament strings consist of multiple filaments twisted or braided together. They provide enhanced power, feel, and comfort due to their increased elasticity. However, they may be less durable compared to monofilament strings.
Hybrid- Hybrid string setups involve using different types of strings in the main and cross strings of the racquet. For example, combining a durable monofilament string with a softer multifilament string. This combination aims to balance power, control, and durability.
Tension- The tension at which squash strings are strung also affects the racquet's performance. Higher string tension provides more control and accuracy but reduces power. Lower tension offers increased power but sacrifices some control. The recommended string tension for squash racquets typically falls within the 22 to 30 pounds range.
String Patterns- Squash racquets have different string patterns, denoting the number of main and cross strings. The most common pattern is the 14×18 pattern, with 14 main and 18 cross strings. Other patterns, such as 16×17 or 16×19, are also used. The string pattern influences the sweet spot size, power potential, and string durability.
It's important to note that individual preferences and playing style can greatly influence the choice of squash string construction. Players may experiment with different string materials, gauges, tensions, and patterns to find the best combination that suits their game. Consulting with a professional stringer or knowledgeable squash player can provide further guidance in selecting the right string construction for optimal performance.
How your racquet can affect your strings – minimising the risk of snapping
Your racquet can indeed have an impact on your strings and influence the risk of snapping. Here are a few ways in which your racquet can affect your strings, along with some tips to minimize the risk of string breakage:
String pattern and tension- The string pattern and stress on your racquet can significantly affect the durability of your strings. A dense string pattern and high string tension create more friction, increasing the likelihood of strings snapping. Consider using a more open string pattern and moderate string tension to reduce stress on the strings.
Racquet stiffness- The stiffness of your racquet can also affect the durability of the strings. A stiffer racquet transfers more shock and vibrations to the strings, increasing the chance of breakage. Opt for a racquet with a more flexible frame to absorb some of the impact and protect the strings.
String material and gauge- The type of string material and its thickness (gauge) play a role in determining string durability. Some materials, like polyester, are known for their durability but may need more tension maintenance. Thinner gauges offer more power and spin but may sacrifice durability. Choose a string material and gauge that suit your playing style and balance your desired performance with durability.
String maintenance- Proper maintenance of your strings can help prolong their lifespan. Regularly inspect your strings for signs of wear, such as fraying or notching. If you notice any significant damage, consider replacing the string. Additionally, keeping your racquet in a temperature-controlled environment and avoiding extreme temperatures can help prevent premature string breakage.
Stringing technique- The way your racquet is strung can also affect the risk of string breakage. Ensure a qualified professional strings your racquet, or learn to string it properly. Poor stringing methods, such as using too much strain or not tying knots securely enough, can weaken the strings and increase the risk of breaking.
Remember, no matter how well you care for your strings; they will eventually wear out over time due to normal use. To preserve peak performance and lower the possibility of unanticipated string snapping, restring your racquet regularly is a good idea, depending on how frequently and intensely you play.
FAQs
Q1. What are squash racquet strings?
Squash racquet strings are the material that is used to create the main and cross strings on a squash racquet. They form the bed of the racquet through which the ball is struck.
Q2. Why are squash racquet strings important?
Squash racquet strings play a crucial role in determining the performance and feel of the racquet. They affect the power, control, and durability of shots, as well as the overall playability of the racquet.
Q3. What types of squash racquet strings are available?
Various types of squash racquet strings are available on the market, including multifilament, monofilament, and natural gut strings. Each type has its characteristics and benefits.
Q4. What is a multifilament string?
A multifilament string comprises several individual fibers twisted or braided together. It offers a softer feel, better power, and more comfort than other strings. However, it may have less durability.
Q5. What is a monofilament string?
A monofilament string is made from a single, solid filament of material. It provides more control, durability, and spin potential but can be stiffer and less forgiving on the arm.
Q6. What are natural gut strings?
Natural gut strings are made from the intestines of cows. They are known for their exceptional feel, power, and tension maintenance. However, they are quite expensive and less durable compared to synthetic strings.
Q7. What factors should I consider when choosing squash racquet strings?
When choosing squash racquet strings, consider your playing style, skill level, desired level of power or control, budget, and personal preferences for feel and comfort.
Q8. How often should squash racquet strings be replaced?
The frequency of string replacement depends on various factors, such as the frequency of play, the player's skill level, and the type of strings used. On average, replacing squash racquet strings every 30 to 50 hours of the game or every three to six months is recommended.
Q9. Can I restring my squash racquet myself?
While it is possible to restring a squash racquet yourself, it is generally recommended to have it done by a professional stringer with the necessary expertise and equipment to ensure proper string tension and racquet performance.
Q10. How much tension should I use for squash racquet strings?
The recommended tension for squash racquet strings is typically between 24 to 30 pounds. However, the ideal pressure can vary depending on personal preference and playing style. It is advisable to consult with a professional stringer to determine the best stress for your specific needs.
Q11. How can I extend the lifespan of my squash racquet strings?
To make your squash racquet strings last longer, shielding them from too much moisture, extreme temperatures, and prolonged direct sunlight exposure is important. Additionally, using a proper string dampener and avoiding hitting the walls or floor with your racquet can help prevent premature string breakage.
Conclusion
In summary, the squash racquet string selection greatly impacts how well it performs and feels overall. This article thoroughly explains the numerous aspects to consider when choosing squash racquet strings, such as gauge, material, tension, and string pattern.
By understanding the characteristics and advantages of different types of strings, players can make informed decisions that align with their playing styles and preferences. Whether seeking power, control, or a balance between the two, a string option is available to enhance gameplay and maximize performance on the squash court.
Furthermore, it is essential to remember that strings deteriorate over time, and regular maintenance is crucial for optimal playability. Monitoring string tension, inspecting for signs of wear, and restringing when necessary will ensure consistent performance and prolong the lifespan of the strings.
Lastly, experimentation and personal experience are valuable aspects of finding the perfect string setup. Every player is unique, and what works for one individual may not work for another. It is recommended to try different strings and tensions to discover the combination that suits your style of play and provides the desired results.
Selecting the right squash racquet strings is vital to improving your game. You can find the ideal string setup that enhances your performance, control, and enjoyment on the squash court by taking into account the aspects covered in this article and adopting a process of trial and error.
Want to use this infographic on YOUR site?
Just copy and paste the below code into the HTML of your page to show this infographic on your site with the correct attribution! You're welcome!
<a href="https://bosssquash.com/blog/squash-racquet-string-guide/"><img src="https://bosssquash.com/wp-content/uploads/2021/01/Squash-Racquet-String-Guide-scaled.jpg" /></a>
Source: The Squash Company