[Updated on 1 August 2022] There are many types of squash shoes from different brands out there but for now, let us focus on Asics squash shoes. You may be one of the many players that prefer Asics shoes for their agility and speed but they are not all the same. When trying to find the best Asics shoes suited to your playing style, you may only be interested specifically in increased grip or support or comfort and so on.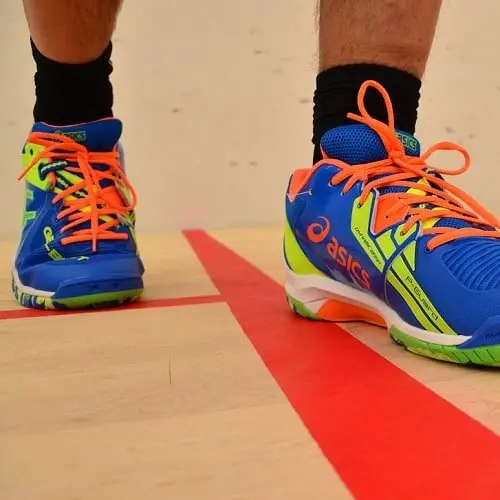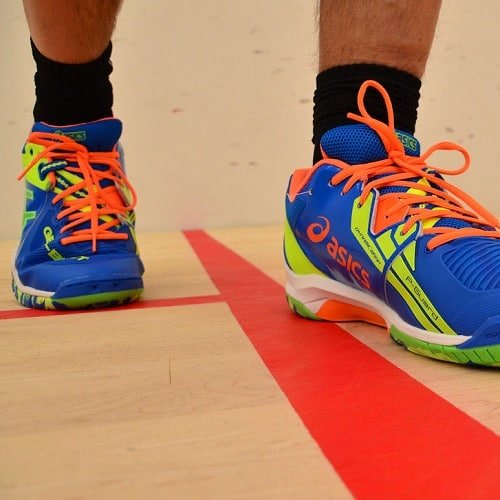 Before we get into the details of specific Asics squash shoes, we will look at some of the most sought-after types of squash shoes in general. It is much better to go out shopping for shoes with knowledge about what you are looking for and whether what you are looking for will actually help you in the court.
Types of Squash Shoes
There are two types of Asics squash shoes:
Shoes Providing Stability for Power Play
You will need these types of shoes if you focus mostly on delivering power shots or on keeping your opponent off balance. These features include:
Support and stability especially when you are making turns and short sprints
Impact protection to protect against harsh take-offs and landing
Perfect fit for comfort throughout the match
Shoes for Speed in Covering the Court
If your playing style all about athleticism and making quick movements, then you will need a different set of features. They include:
A snug fit to ensure that your power is put down on the court
Great responsiveness and a low profile for increased agility and speed
Great traction to grip the court and help with sudden shifts in direction
A sizeable pivot point in the sole to promote more efficient and aggressive turns
Now that you know the types of squash shoes and what they offer, it will be easier for you to pick the right shoe among the Asics squash shoes below
Best Asics Squash Shoes
Now that you know the types of squash shoes and what they offer, it will be easier for you to pick the right shoe among the Asics  squash shoes below:
Asics Gel-Rocket 8 (Best Value)
The ASICS Gel-Rocket 8
court shoes are a perfect choice for the players still developing and honing their on-court skills. These shoes are light and come at a great price too.
These shoes are built with a special forefoot GEL® system that appears in the mid-sole. A positive of this feature is to move lightly and smoothly during gameplay. Also, the Trusstic System® technology is highly effective at maintaining the structural integrity of the sole. Asic's makes these shoes with NC Rubber® which gives fantastic grip on the squash courts.
These Asics are a great squash shoe for the price, but the manufacturer soles do not lend themselves to the best support. You will want to purchase shoe inserts separately for these shoes to prevent your feet from hurting. Also, the fabric on the outside of the shoes tend to rip, specifically on either side of the toes from the cutting and movement from playing a lot of squash.
Pros
Great value
Excellent floor grip
Lightweight
Cons
Factory insoles wear out quickly
Shoe size and fitting seem to be slightly big
Asics Gel-Tactic 2 Shoe (Most Comfortable)
The ASICS Men's Gel-Tactic 2
has a simple design consisting of a body mostly made of synthetic material with a rubber sole. You also get to experience comfort and breathability thanks to the mesh on the upper of the shoe. Just like the Gel-Rocket, it comes with Asics' Trusstic system technology, which reduces the weight of the sole unit while retaining the structural integrity of the sole.
The technology helps to enhance stability when you are on the court. Two things you will definitely like is that it has a supplemental toe guard for durability, and its seamless construction helps reduce the potential for irritation and friction, often caused by traditional stitches and seams. The Gel-Tactic 2 also features the Asics' forefoot and rear foot gel cushioning for superior comfort.
Pros
Great stability
Good grip
Best comfort
Cons
Support under the ball of the foot is low
Asics Men's Upcourt 2 Shoe (Best Speed)
There is nothing more irritating than sliding all over the squash court during an intense game. The ASICS Men's Upcourt 2
helps you avoid such situations thanks to its full-length rubber outsole that increases traction. The synthetic leather overlays and mesh underlays help promote breathability and forefoot comfort.
Weighing only 9.9oZ, this is probably a good choice for an amateur athlete. You also get a lace-up closure to provide a secure fit and lightly padded tongue and collar for additional comfort. The shoe has a really soft mesh-lined interior with a footbed that provides cushioning.
Both its thick midsole and the Rearfoot Gel Cushioning System in the heel provide impact protection.  You do not have to part with a lot of money to get this shoe.
Pros
Lightweight and fast
Great grip on the court
Great price
Cons
Laces wear out quick
Recommended to get new insoles
Asics Men's Gel-Netburner Ballistic Shoe (Best Support)
Net burning is definitely not a feature you can expect from the ASICS Men's Gel-Netburner Ballistic
. Jokes aside, it is the red and blue color of this shoe that will catch your attention first. You will not just look good on the court, but the Gel-Netburner's Rearfoot and Forefoot Gel Cushioning systems will also help absorb shock from impact and toe-off phases.
This squash shoe also has a fluid ride midsole that provides you with a combination of bounce back and cushioning.  Its Asics' midsole Trusstic System Technology reduces the weight of the sole unit while retaining the structural integrity of the shoe. This technology increases support and enhances stability.
With its NC rubber outsole, a compound containing more natural rubber than traditional solid rubber, you can expect to experience more traction on the court.  You also get a quarter panel brace securely wraps your foot for added support during side-side movements.
Pros
Comfortable shoes
Great ankle support
Good traction on the courts
Cons
Because of high ankle support, these shoes aren't that fast
Heel insole is hard
ASICS Men's Gel-Blade 5 (Best Durability)
If what you care about is stability and support on the court, then the ASICS Men's Gel-Blade 5
may help you. The Duomax Support System is a material in the midsole that helps improve your short sprints and turns.  Asics also added the Impact Guidance system (IGS) in the shoe design to enhance your foot's natural movement from heel strike to toe-off.
The outer material of this shoe is made of synthetic material while the sole is made of rubber.  With both Rearfoot and Forefoot Gel Cushioning, the shoe absorbs impact shock upon landing and take-off and allows easy forward and sideways movement. The SpEVA material in the midsole adds more bounce back and responsiveness, while the Trusstic System reduces the shoe's weight.
For durability, Asics has reinforced the outsole with its High Abrasion Resistance rubber, which prevents excessive wear.
Pros
Great looking and cool colors
Lightweight for speed
Good grip
Cons
Not enough sole support
Not best for those with wide feet
Little shock absorption
Asics Squash Shoes Conclusion
Since price is a major factor when selecting these shoes I would go for the ASICS Gel-Rocket 8
. I am not making this choice only because I think it offers the best value for money, but I am on my 3rd pair of these shoes and they have been fantastic.
Pierre at Squash Source agrees, low cost and good quality!
This Asics squash shoe also looks good in the court and is very durable and lightweight. You also get amazing protection for your feet and adequate cushioning.