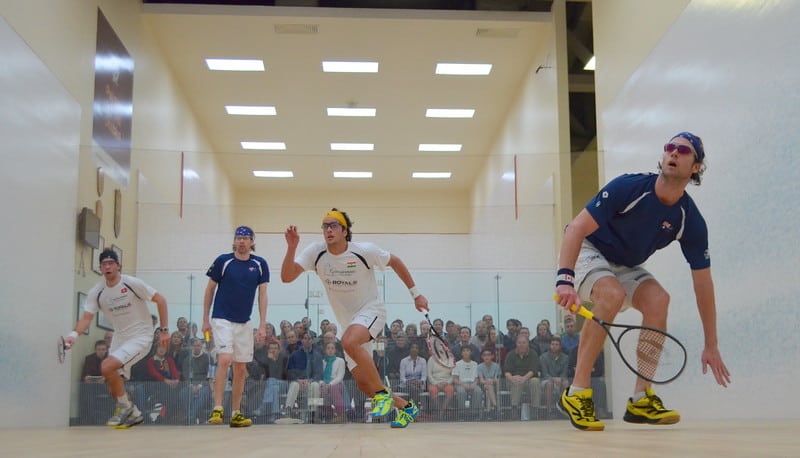 [Updated on 1 July 2022] Squash is a very fast-paced sport that is played in close quarters. The combination of high speed action and a small court space can mean accidents are very likely to happen at some point in your playing career. A squash ball in the eyes or face can be very serious. A wise precaution is to wear a pair of squash goggles to protect your eyes and avoid injury on the court. Even if you have glasses, there are squash goggles over glasses that you can wear too.
Over Glasses Goggles
If you are just starting out in the game of squash, there are a couple of things to know in finding the perfect set. A major consideration is whether to go with the standard goggles that are worn similar to a pair of glasses or the goggles with a strap that goes around the back of the head. Both styles are highly effective at giving protection on the squash court. Many players prefer the squash goggles because the strap gives that extra little bit of security during game play.
Also, for the squash players that wear prescription lenses, you will need to invest in a pair of squash goggles over glasses or even special prescription squash glasses. The prescription squash glasses are easily organized by talking to your optician.

Squash Goggle Lenses
A further point of consideration when shopping for the squash goggles is the type of lenses in the goggles. It is essential to go with a high-quality pair with shatterproof and durable lenses. A pair of goggles is essentially there to protect your eyes, so if the lens shatters this is a significant safety risk.
Also, the best lenses can prevent deep scratches which hinder the vision on the court and even from fogging up. Plus, the hard-wearing lenses will of course last that much longer and not need to be replaced as often.
Importance of Proper Eyewear
Best Squash Goggles for Over Your Glasses
So, which squash goggles over glasses are the best? Here are a few of the top-rated options:
Unique Over Specs Eye Guard
Over Specs are designed to fit over your prescription glasses. Oversized specs design allows you to wear your glasses while also protecting your eyes.

Features a clear, distortion free, shatterproof polycarbonate lens.

Lightweight and suitable for any sport, including racquetball, squash, lacrosse, and baseball.

Side vents on the temples minimize fogging

Includes retainer to keep it secure or use your own with provided holes at the end of the temp
The Unique Over Specs Eye Guard
 is built to easily fit over any prescription glasses. They are made of a shatterproof poly-carbonate to give reliable protection on the squash court and are even optically corrected to avoid issues with any signs of distortion.
In view of the lightweight construction, they do feel very comfortable in use and will hardly be noticed while playing, but give that extra bit of reassurance that your eyes and expensive prescription glasses are protected in the unfortunate case of getting struck in the face by a rebounding ball.
Features
Universal Fit- Designed to fit over most prescription glasses, ensuring a comfortable and secure fit for various eye sizes and shapes.

Optical Clarity- Equipped with high-quality lenses that offer superior visual clarity, reducing glare and providing a distortion-free view.

UV Protection- Offers complete UV protection, shielding your eyes from harmful ultraviolet rays and preventing potential eye damage.

Impact Resistance- Constructed with durable and shatterproof materials, providing reliable protection against impact and accidental drops.

Lightweight and Stylish- Made with lightweight materials and a sleek design, you can wear them all day without discomfort and in style.

Adjustable Arms- The adjustable arms allow a customized fit, ensuring a snug and secure grip on your prescription glasses.

Anti-Fog Coating- An anti-fog coating on the lenses prevents condensation and maintains clear vision in various weather conditions.
Pros
Versatility- Suitable for individuals who wear prescription glasses, offering a practical solution for eye protection without needing separate goggles.
Convenience- Easily slip them on and off over your existing eyewear, eliminating the hassle of carrying multiple pairs of glasses.
Eye Safety- Provides an extra layer of protection for your eyes during outdoor activities, sports, or work in hazardous environments.
Cost-Effective- Avoid the expense of purchasing prescription sunglasses, as these eye guards offer an affordable alternative.
Fashionable- Stylish design and various color options make the Unique Over Specs Eye Guard trendy, catering to different preferences.
Cons
Size Limitations- While designed to fit most prescription glasses, there may be limitations in accommodating very large or unusually shaped eyewear.
Fogging in Extreme Conditions- Despite the anti-fog coating, extreme temperature changes or excessive sweating may lead to temporary fogging.
Compatibility Issues- Some thick-framed or oversized prescription glasses might not fit comfortably under the eye guard.
Limited Polarization- Unlike dedicated polarized sunglasses, the eye guard may not provide full polarization capabilities.
Bulkiness- Although lightweight, adding the over-specs eye guard can add bulk to your overall eyewear ensemble.
In conclusion, the Unique Over Specs Eye Guard provides a practical and affordable option for those wishing to safeguard their eyes without compromising style. Its universal fit, optical clarity, and impact resistance ensure reliable eye safety during various activities. However, potential buyers should consider size compatibility and polarized features to ensure it suits their specific needs and preferences.
The BSN Overglass Eye Protectors
 are built in a rugged lightweight plastic material that has the ability to give a high level of protection in the event of being struck in the face by a squash ball. They are very effective at not clouding the vision to make sure maximum viability is possible at all times.
While the BSN Overglass Eye Protectors may not be the most desirable option when it comes to fashion, they are really useful to protect the eyes, temples and nose when playing a fast-paced racket sport like squash.
Features
Overglass Design-

 Specifically engineered to comfortably fit over prescription eyewear, providing users with dual-layer protection.

High-Grade Materials-

 Construa's long-lasting performance and increased safety are guaranteed by using solid and impact-resistant materials in the construction.

Optical Clarity-

 The lenses are designed to offer crystal-clear vision, allowing users to maintain excellent visual acuity without distortion.

Anti-Scratch Coating-

 Equipped with an anti-scratch coating, preventing damage to the lenses during regular use and extending their lifespan.

Anti-Fog Technology-

 Integrated anti-fog technology prevents fogging, ensuring clear visibility even in humid or temperature-changing environments.

Adjustable Temple Length-

 The temple arms can be adjusted to achieve a secure and customized fit for various face shapes and sizes.

UV Protection-

 Provides reliable protection against harmful UV rays, guarding the eyes against sun-related damage.
Pros
Versatility-

 Suitable for individuals wearing prescription glasses, eliminating the need to switch eyewear during various activities.

Comfortable Fit-

 The ergonomic design and adjustable features offer a comfortable and secure fit for extended wear.

All-Day Wear-

 Lightweight and well-balanced, making them comfortable for extended wear without causing discomfort or pressure on the nose and ears.

Enhanced Safety-

 The high-quality materials and impact resistance ensure optimal eye protection in hazardous environments.

Cost-Effective-

 Users can save money using these over-glass protectors instead of investing in separate prescription safety glasses.

Wide Range of Applications-

 This eyewear is suitable for various settings such as laboratories, industrial areas, construction sites, sports, and other activities that demand eye protection.
Cons
Bulky Appearance-

 Some users might find the over-glass design less aesthetically appealing than traditional safety glasses.

Limited Style Options-

 The range of frame styles and colors might be more limited than regular prescription eyewear.

Fit Compatibility-

 While adjustable, these protectors may not fit perfectly over all prescription glasses, leading to slight gaps or discomfort for particular wearers.

Not Suitable for Non-Prescription Users-

 Individuals who need prescription glasses may find these protectors suitable as standalone eyewear.

Reflections-

 The over-glass design may create reflections on the inner surface of the lenses, affecting vision in certain lighting conditions.
In conclusion, BSN Overglass Eye Protectors offer a convenient and effective solution for individuals seeking eye protection while wearing prescription glasses. With their exceptional features and benefits, they cater to a wide range of activities and ensure safety without compromising comfort. However, some users may find the appearance and fit less appealing and may only be suitable for those with prescription eyewear. Potential users must weigh these factors based on their specific needs and preferences.
More Squash Gear
The importance of having proper protection on the court cannot be understated. Without your eyes and ability to see, you would not be able to play the great game that you love!
In addition to having the right eyewear for squash, other equipment is equally as important. We have other articles that will help add to your doubles squash game focused on racquets and shoes.
Want to use this infographic on your site?
Just copy and paste the below code into the HTML of your page to show this infographic on your site with the correct attribution! You're welcome!
<a href="https://bosssquash.com/blog/best-squash-goggles-glasses/"><img src="https://bosssquash.com/wp-content/uploads/2021/01/The-Importance-of-Proper-Eyewear.png" /></a>