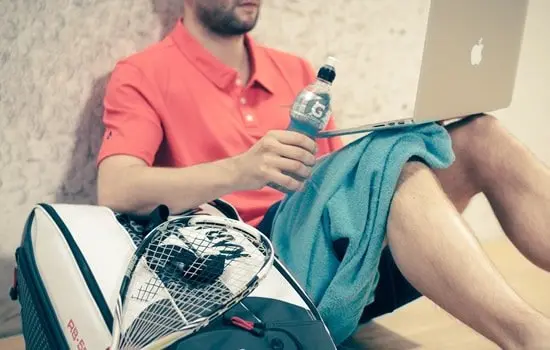 [Updated on 1 July 2022] A high-quality pair of squash shoes are a must-have piece of equipment for the most successful and enjoyable game play. They are non-marking (meaning no marks are left on the court surface), protect your feet and make it easier to quickly move around the court.
Squash shoe shopping tips
To find the best squash shoes for wide feet you want to carefully research the market. It is essential to have the right fit, so it is useful to know your feet before you go shopping. Squash shoes are made to fit feet of all shapes and sizes.
Certain brands like Adidas and Nike have a bit narrower fit, whereas Asics and Hi-Tec are closer to standard width. However, a great brand for wide feet is Prince, who makes a great selection of durable shoes.
You want to wear a pair of squash shoes that give a snug, comfortable fit, but do not pinch the toes. When trying on the shoes make sure to wear your court socks (cushioned, medium-thick and sweat-wicking) to give the best all-round appreciation of how the shoes will feel on the court.
It is important to avoid the footwear that is too small or too large because this can have an impact on your gait. A result of this is extra pressure is put onto other body parts in an effort to naturally make up for any changes.

Best Squash Shoes for Wide Feet
Here are a few of the best squash shoes for wide feet:
Asics Gel-Rocket 8
The Asics Gel-Rocket 8 is available in a varied selection of colors which is certain to help you stand out at the squash courts. Plus, they are more importantly appreciated for the great traction at a very affordable price. They are synthetic made with the ability to last and the comfort features of these shoes can assist players with joint problems. Also, the Asics Gel-Rocket 7 is a really good choice for players in search of footwear that has the ability to support a wider foot.
Head Sprint Pro
The Head Sprint Pro indoor shoes are styled with a classic look and packed with useful features to work perfectly well on the squash court. They are built with a wider forefoot, heel stabilizer and anti-slip heel. This high-quality pair of squash shoes is certain to appeal to the player with feet that measure wider-than-average. However, this pair of shoes isn't the grippiest on the court surface, but they will give the desired comfort for the wider feet.
Prince NFS Attack
The Prince NFS Attack is a solid pair of squash shoes that are appreciated for all-around comfort for wide feet. They are made with a lightweight Nubuck material for the upper, a padded collar area, and a unique lace design to make it easier to achieve the customized fit. The rubber outsole is entirely non-marking to make it a fully acceptable option for the squash court.
Further Squash Gear Reading
We have more in-depth reading on squash shoes.