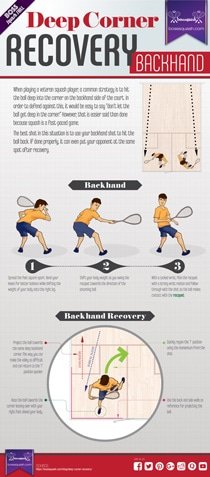 [Updated on 1 July 2022] When playing a veteran squash player, a common strategy is to hit the ball deep into the corner on the backhand side of the court. In order to defend against this, it would be easy to say "don't let the ball get deep in the corner." However, that is easier said than done because squash is a fast-paced game.
The best shot in this situation is to use your backhand shot to hit the ball back. If done properly, it can even put your opponent at the same spot after recovery.
Backhand
Spread the feet square apart. Bend your knees for better balance while shifting the weight of your body onto the right leg.
Shift your body weight as you swing the racquet towards the direction of the oncoming ball.
With a cocked wrist, flick the racquet with a strong wrist motion and follow through with the shot as the ball makes contact with the racquet.
Backhand Recovery
Project the ball towards the same deep backhand corner. This way you can make the volley as difficult and can return to the 'T' position quicker.
Race the ball towards the corner leaning over with your right foot ahead of your body.
Quickly regain the 'T' position using the momentum from the shot.
Use the back and side walls as a reference for projecting the ball.
Want to use this infographic on your site?
Just copy and paste the below code into the HTML of your page to show this infographic on your site with the correct attribution! You're welcome!
<a href="https://bosssquash.com/blog/deep-corner-recovery/"><img class="alignright size-full wp-image-1006″ src="http://bosssquash.com/wp-content/uploads/2018/11/Backhand_DeepCorner.jpg" alt="Backhand_DeepCorner" width="1200″ height="2726″ /></a>