[Updated on 1 August 2022] Are you looking to buy a new pair of squash shoes? During the early stages of your search, you're likely to see the name Salming pop up. This is because it's one of the most sought-after shoe brands by squash professionals. Salming squash shoes are seen as premium, high-quality squash shoes among club and professional players.
Do you want a pair from this manufacturer but you're not sure which one to buy? We've taken the liberty of outlining the four best Salming squash shoes you can select from.
| Image | Title | Our Picks | Check Price |
| --- | --- | --- | --- |
| Top | Salming Men's Hawk Squash Shoes | Newest Style | Check Price |
| Top | Salming Men's Kobra 2 Squash Shoes | Best Ankle Support | Check Price |
| Top | Salming Men's Falco Squash Shoes | Low Profile | Check Price |
| Top | Salming Kobra 3.0 Mens Squash Shoes | *Editor's Choice* | Check Price |
Why Choose Salming Squash Shoes?
You're probably wondering why this brand is so popular. To answer your question we've outlined what the manufacturer is loved for: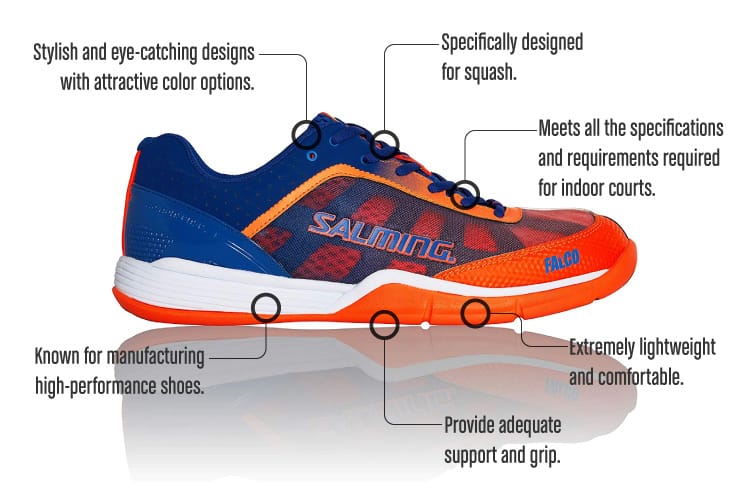 They manufacture shoes that are specifically designed for squash. This means Salming has mastered the ins and outs of squash and manufactured a shoe that's fit for the game

Their shoes meet all the specifications and requirements required for indoor courts. As you're aware squash is an indoor sport

Salming is known for manufacturing high-performance shoes that live up to the expectations the game demands. It's no secret how squash is a highly intense sport

The shoes are extremely lightweight and comfortable and provide adequate support and grip

It's easy to spot a Salming squash shoe because of its highly attractive and stylish design. Salming shoes are known for their bold and eye-catching colors
Drawbacks Associated with Salming Shoes
It wouldn't be fair to only list the impressive qualities that come with this brand. We'll also outline a few cons associated with Salming squash shoes to give you an unbiased review.
While we can't fault them in regard to comfort and performance, it's necessary to inform you that Salming squash shoes don't come cheap. Of course, this will differ from one model to the next, but compared to other brands, they're a little on the expensive side.
Also, the general consensus is that size-wise they run big. As a result, we strongly advise that you purchase one size down to get the right fit.
How to Pick the Right Pair
Salming has four models that you can select from, namely the Kobra, Viper, Race, and Adder. Each model has its own unique strengths. But how do you ensure that you pick the right Salming pair for your needs? Consider the following features.
Agility
Because of the demanding nature of the sport, you want a shoe that provides you with maximum agility. You need a pair that allows you to run around the court with ease and respond swiftly where possible.
Weight
Agility is closely influenced by the shoe's weight. Salming generally manufactures lightweight shoes but this will impact players differently depending on an individual's body size.
What's lightweight to you might but not feel that way to the next person. Consider your frame and pick a shoe that allows you to effortlessly glide on the court.
Cushioning
Shock and ground impact forces occur as you run on the court. You want a shoe that cushions you against such forces because they can cause great discomfort. Choose a pair that's padded and designed for shock absorption.
Consider if the shoes offer cushioning around the heel area which is likely to suffer more discomfort.
Stability
Stability is paramount when playing squash. You want a pair that offers maximum stability and traction so that you don't fall during the game.
Breathability
No doubt your feet will sweat during the game. But the situation doesn't have to leave you feeling uncomfortable and negatively impacting your performance. Simply select shoes that are breathable to keep your feet feeling cool and fresh. A pair that's lined with mesh allows for airflow, so keep that in mind when comparing different shoes.
Profile Design
You can choose between shoes with a high or low profile. But ask any squash enthusiast and they will tell you that shoes with a low-profile design allow for better performance.
They generally give you a ''closer to the court feel" which allows you to reach the ball quicker. This means that such shoes don't have as much cushioning which may sacrifice some degree of comfort.
It all boils down to a matter of preference; are you willing to sacrifice comfort over performance?
Comfort
You want a shoe that's extremely comfortable to avoid cutting your game short. This will depend on many factors including the material used in the shoes' construction. Salming has soft shoes that offer exceptional comfort without sacrificing performance. But not all models are soft, some are a little stiff.
Benefits of Squash Shoes
Earlier on we mentioned how people love that Salming shoes are specifically designed for squash. This is because buying a random pair of sneakers with the intention of using them for squash won't work. Buying shoes that are specifically meant for squash will have you enjoy the following benefits:
Squash shoes are designed to allow for lateral and forward movements commonly associated with the game

The right squash shoes will allow for agility and quick movement around the court

They can significantly reduce the risk of injury
How to Care for Your Salming Squash Shoes
To ensure that your shoes hold up for long it's important to take good care of them. Make sure to do the following:
Wipe them clean with a damp towel after each use.

Leave them to completely air dry.

Use sprays or deodorants to deodorize the shoes to minimize odors.
Product Reviews
This Salming shoe is the one to select if you're looking for maximum support and stability. It's designed to stabilize your midfoot, eliminating slips or falls. In addition, the shoe features a reinforced heel which also contributes to your foot stability.
You can expect sufficient grip form these shoes, making them ideal to use on indoor surfaces. This is because the sole is made of a rubber compound that is lightweight. Plus, you'll appreciate that it's removable in case you want to replace it with a medical sole.
For such a high-performance shoe, it's surprisingly soft. The pair features ample cushioning to protect your feet from impact forces as you play. What's even more appealing is that the soft foam is designed to offer 70% more shock absorption compared to other brands. Plus, the tongue and collar of the shoes are padded to provide you with maximum comfort.
The midsoles are made of foam material which is lightweight to improve your agility. You'll get to the ball in the shortest possible time.
Salming shoes are known for their attractive designs and this pair doesn't disappoint. You're likely to be impressed by the stunning design and colors of these shoes. Simply pick your favorite shade from the five options provided.
Unfortunately, some users have noted that the upper part of the shoe trends to the fray with time. Note also that this pair doesn't come cheap.
Pros
Comfortable

Cushions feet

Ample grip

Lightweight
Cons
Expensive

Durability questionable
If high-performance squash shoes are what you're after, look no further than this Kobra pair. Like the model reviewed above, this pair also features a cushioning compound made up of soft foam. Your heel is mostly at risk of suffering from impact during play and this foam will protect it. Note that they do provide less cushioning compared to other models.
The outsole is made up of a rubber compound which is both durable and lightweight. These will provide you with that much-needed grip on any indoor surface.
These shoes offer excellent stability characteristics in the form of an exoskeleton design. This design ensures that the shoes provide your feet with ample support. In addition, they also have a heel cup which is longer than the one on most brands, to effectively stabilize your heels and provide exceptional fit and comfort.
Breathability is guaranteed with this pair that's lined with mesh. You don't have to worry about hot and sweaty feet stopping you from winning the game.
There's no doubt that these are high-performance shoes. They feature a recoil mechanism that's designed to maximize your performance.
One of the drawbacks is that these shoes are a little heavier compared to other models. Also, a few customers reported that they may be a little small if you have wide feet.
Overall, these are the shoes to pick if you prioritize performance over comfort.
Pros
Offer stability

Effective grip

High-performance shoes
Cons
Slightly heavy

Not for wide feet
This brand of squash shoes is a product of the Viper model. This Salming Falco pair is for you if you're looking for a shoe that allows for maximum agility. The fast-paced shoe features a low-profile design that'll help you get to the ball quickly.
Thanks to the shoes' lightweight design, your performance isn't compromised. You'll find it very easy to run around the court.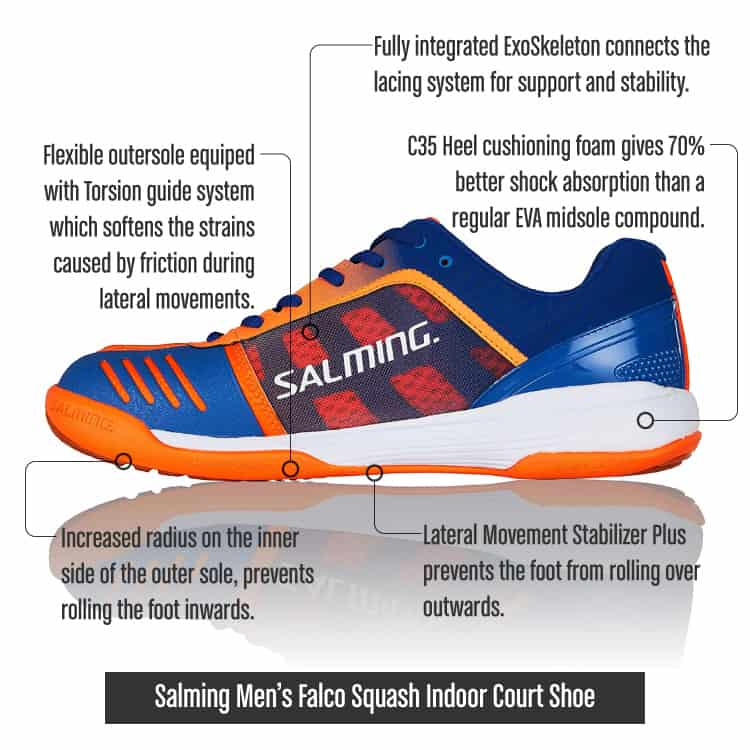 These shoes have cushioning foam that's strategically located at the heel center. As a result, you can expect even better shock absorption from this pair when compared to other models which have EVA soles.
You'll also enjoy that much-needed stability with this pair because it also incorporates the exoskeleton design found in the Kobra reviewed above. Pressure exerted on your joints as a result of lateral movements during the game is minimized.
You'll appreciate how this shoe is designed to bend in the right places to reduce friction that causes a strain as you play.
Injuries aren't uncommon during the game of squash. This is mostly caused by incorrect foot placement as a result of ill-fitting shoes. These shoes are designed to offer you a comfortable fit over time but you'll need to break them in for the first couple of days.
Because they feature a low-profile design, some people might find them too low initially. You have the option of adding insoles to increase comfort levels.
Pros
Cons
Is orange one of your favorite colors? Then we're certain this brightly colored orange shoe will definitely catch your attention.
Aesthetics aside, this Viper shoe is designed to provide you with that much-needed agility necessary to win any game. This is largely due to the low-profile design.
But before we go any further we'll quickly point out that this is one of the more expensive models from Salming. But nonetheless you'll get value for your money if you select this pair.
Compared to other designs, these shoes have less cushioning. As such you're likely to have that close-to-the-ground feel which positively impacts performance. Though you may have to sacrifice a little comfort because of the thinner cushioning, they're not outright uncomfortable.
They are pretty lightweight which adds to your agility. It helps that they feature a breathable upper so your feet will be kept cool during the game.
Thanks to their fast performance design, these are the shoes if you want to win that important game.
Generally, these shoes won't leave marks on the courts—something most clubs will appreciate. But if you do drag your feet then you might just leave a few orange streaks.
Pros
Agile

High-performance shoes

Lightweight
Cons
Conclusion
So which pair of Salming squash shoes are you impressed with? Make sure the one you choose pick the right fit and feels comfortable.
For us, the
| Image | Title | Our Picks | Check Price |
| --- | --- | --- | --- |
| Top | Salming Men's Hawk Squash Shoes | Newest Style | Check Price |
| Top | Salming Men's Kobra 2 Squash Shoes | Best Ankle Support | Check Price |
| Top | Salming Men's Falco Squash Shoes | Low Profile | Check Price |
| Top | Salming Kobra 3.0 Mens Squash Shoes | *Editor's Choice* | Check Price |
is the clear winner. Not only is it a fast-paced shoe that allows for agility, but it's lightweight and breathable too. You're guaranteed quick feet movement necessary to win the game.
Also, they're lightweight and offer ample cushioning. Granted, they may be on the pricy side compared to other models, but this way you won't sacrifice quality, comfort, and performance.