[Updated on 1 August 2022] One of the best squash racquet manufacturers is Tecnifibre, a company out of France with a rich history in manufacturing sports equipment for Tennis and Squash.
Many squash players gravitate to the Tecnifibre strings because they are so good, and another fun fact is that Tecnifibre is most well-known for was the longtime lead sponsor for the French Open (which was right in their backyard in Paris)!
As an avid squash player, you are probably familiar with Tecnifibre because two of the sports biggest players use their racquets – Nour El Sherbini and Mohamed El Shorbagy. We'll take a look at some of the racquets Tecnifibre has – and you can see why these players are so good!
Tecnifibre Squash Racquets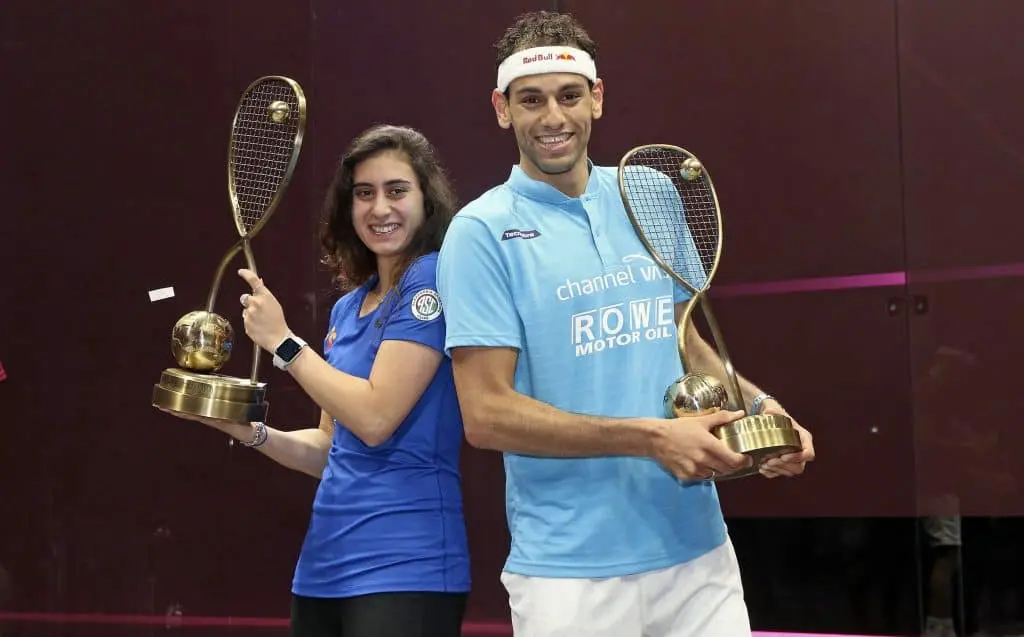 Tecnifibre Carboflex 125 Squash Racket – Best for Singles Squash
The weapon of choice for PSA World Number One squash player Mohamed El Shorbagy, the Tecnifibre CarboFlex 125
is a formidable squash racquet for a wide range of players with varying play styles.
The Carboflex 125 is especially ideal for players who favor long volleys and aggressive play styles, but it can be utilized for all sorts of strategies. With excellent precision and control, the Tecnifibre Carboflex is a great racquet for making precise and deadly shots from any place on the court.
The Carboflex is heavy enough to provide powerful and controlled shots while remaining light enough to ensure that you don't get worn out too quickly into the match. The head weight on the Tecnifibre Carboflex 125 is perfectly balanced for both control and power, which is why it is an excellent racquet for players whose play style leans towards longer volleys.
The Carboflex boasts a strong sweet spot, and if you figure out how to consistently make contact with it, you'll be sure to hit explosive shots time and time again. This racquet also has an Isomorph Shaft, which increases power by around 25% as compared to the standard mono shaft.
The Carboflex does have a bit more vibration to it compared to some other racquets of similar caliber, but not nearly enough to cause any real damage to your game. Taken in combination with the balanced weight, you'll hardly even notice. 
Pros
Large sweet spot
Head-light weighting for quick racquet head speed through the ball
Low vibration
Cons
factory string complaints
Head-light weighting may take some getting used to if you play with a balanced or head-heavy racquet
Tecnifibre Carboflex 130 Basaltex Squash Racquet
The Tecnifibre Carboflex 130 Basaltex squash racquet is constructed from a combination of graphite and basaltex, a new material which makes graphite even stronger. The weight of the frame is around 4.70 oz which is comparable to many other light squash racquets on the market today. Its head size is 77.5 square inches and it ships with a full and ventilated cover.
The ultra light construction of this racquet gives a powerful and fast performance which surprises most players when they use it for the first time. You will find that this racquet has excellent maneuverability and strength compared with other Tecnifibre squash racquets.
Players may like this racquet (amongst the other 2 we've reviewed) for the following reason. When considering a racquet, players weigh wanting a light weight racquet as they are quick to volley with and having enough weight to help with effective length game.
A racquet that is too heavy can lead you to be slow on the volley, giving up precious time for your opponent to recover. Too light of a racquet and there is more power and effort required in your swing to get good length on the ball.
Players like the Carboflex 130 Basaltex to be a balance for quick volleys and long drives. It is light to be quick on the volley and its head heavy balance gives pace to the drives for length to the back of the court.
Pros
Large sweet spot
Head-heavy weighting helps with power for a 130g racquet
Low vibration
Cons
factory string complaints
Tecnifibre Dynergy Tour 135 Squash Racquet
The Tecnifibre Dynergy Tour 135 Squash Racket is another excellent squash racquet that may surprise you the first time you use it. Although it feels light for 135 grams, this racquet is incredibly strong and the balance point is perfectly engineered for optimal performance.
The Tecnifibre Dynergy is a tour-level racquet designed for experienced players that really want to improve their speed and accuracy in their game. The balance point of the Tecnifibre Dynergy is 14.2 inches and it is constructed of graphite and Blackweave. The lightweight construction really makes a difference to the performance of this racquet and I found that it is amazing how much difference a few grams of weight makes.
For those people that prefer tear shaped squash racquets, this is a racquet you should try out. The main difference with this lineup of racquets for Tecnifibre is the Arch Power – the throat of the strings are not attached to the frame itself but rather wrapped around the arch, creating a fan-shaped pattern.
The tech dry grip is another feature which makes the Tecnifibre Dynasty great to use as it fits in your hand nicely an performs like an extension of your arm. I've found the frame to be strong as well despite its lightweight construction. 
Pros
Tear drop design allows for greater hitting surface area
For players who want stability due to higher weight
Nice factory grip
Cons
Some players may not like the tear drop design
Hard to string your racquet if strings break
Tecnifibre Conclusion
If I were you, I would go for the Tecnifibre Carboflex 125 racquet because it is regarded as the best of the Tecnifbre lineup. Tecnifibre is known more for the singles squash racquets that they make. Having a racquet in your bag right around 125 grams is best for players who want to overpower their opponents.
Of course, if you play a more precise, control game, use a racquet with a little more weight and control!
If you are just starting out, go for a balanced racquet because it will help you figure out what type of player you are.