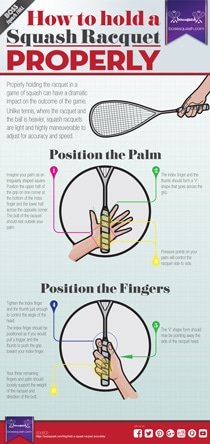 [Updated on 1 October 2023] If anyone has ever told you that you are not that good at touch shots, it may be because you are holding your squash racquet like a hammer.
You see, I used to hold my racquet like a hammer, and while it gave me a lot of what I thought was control, I was often tired after a few minutes of playing. Many years later, there are still a few squash players that avoid me like the plague and refuse to be in my team because of that.
I started working on my grip and a few other techniques, and after some time I noticed that I was improving. You see, when you use a proper squash grip it gives you the ability to move quickly between your forehand and backhand. You also get to generate power, control the weight of the shot and hit the ball successfully in every direction.
A proper squash grip also allows you to impact spin on the ball. It is important for you to master the right grip early so that you don't end up suffering for weeks and weeks, as you try to fix your grip after developing bad habits. Talking about habits, let us look at some of the common mistakes you may be making with your grip.
Why Is the Right Grip Important
Before delving into the specifics of grasping a squash racquet, let us first comprehend the importance of a proper grip. Your racquet grip impacts all your shots, from serves and volleys to smashes and drops. An adequate grip offers optimal control, power, and precision, enabling proficient ball manipulation and strategic maneuvering against your adversary. Conversely, a bad grip can impair your performance by causing missed shots, diminished power, and a loss of control.
When it comes to squash, you'll use two types of grips: the forehand grip and the backhand grip. These grips form the basis for a range of shots in squash, and having a proper understanding of their correct usage is the initial step towards developing proficiency as a player.
The Forehand Grip
The forehand grip is widely utilized in squash and is the foundation for various shots, encompassing drives, volleys, and overheads. Here is the recommended technique for holding the racquet with a correct forehand grip:
Hold the Racquet Handle-

 To start, you want to place the racquet handle diagonally across your palm, running from the base of your palm to the top of your index finger.

Secure with Your Fingers-

 Wrap your fingers around the handle, ensuring your knuckles face upward. Ensure your fingers are relaxed and wrapped around the handle without squeezing too tightly.

Control with Your Thumb-

 The thumb should be positioned on the back of the handle, opposite the fingers, ensuring proper grip and control. Applying gentle yet consistent pressure against the handle is recommended to maintain control.

Position Your Wrist-

 Maintain a wrist position that is relatively straight yet not overly rigid. This will enable you to generate power and maintain control while executing forehand shots.
The Backhand Grip
The backhand grip is crucial for proficiently executing shots on your non-dominant side, including backhand drives, volleys, and drops. Here is a guide on how to establish a correct backhand grip:
Rotate the Racquet-

 Begin by slightly rotating the racquet in your hand, ensuring that the edge of the frame is directed slightly downward.

Place Your Thumb-

 Place your thumb on the rear side of the handle, directly opposite your fingers. To maintain control, it is recommended to apply gentle pressure with your thumb.

Wrap Your Fingers-

 Hold the handle with your fingers wrapped around it, similar to the forehand grip. Ensure that your knuckles are oriented in an upward direction.

Adjust Your Wrist-

 In contrast to the forehand grip, it is recommended to maintain a slightly more flexed wrist with the backhand grip. This technique enables the generation of power and control while executing backhand shots.
Switching Between Grips
In squash, it is frequently necessary to swiftly transition between the forehand and backhand grips throughout rallies. Seamless transitions between these grips are vital for maintaining control and effectively executing a diverse range of shots. Here are some recommendations for transitioning between grips smoothly:
Practice Grip Changes-

 Dedicate time to practice grip changes to develop muscle memory. Stand in front of a mirror and practice switching between forehand and backhand grips repeatedly until it becomes second nature.

Use Your Non-Dominant Hand-

 The non-dominant hand facilitates grip changes. When transitioning from forehand to backhand, or vice versa, use your non-dominant hand to position the racquet grip accurately.

Focus on Footwork-

 Proper footwork is crucial for correctly positioning oneself to achieve optimal grip. Foresee the ball's trajectory and adjust your footwork accordingly to optimize the effectiveness of your shots.

Maintain Balance-

 Ensure proper balance is maintained when transitioning between grips. It would be best if you didn't lose your equilibrium due to quick grip changes, which could lower the quality of your shots.
Additional Tips for Holding a Squash Racquet
Experiment with Tension-

 The level of tension in your grip can impact both your control and power. Experiment with grips of varying tightness to determine the optimal fit for your playing style.

Relax Your Grip-

 Refraining from gripping the racquet excessively is advisable, as this may result in tension in the arm and wrist. Maintain a secure and relaxed grip to optimize control and minimize the potential for injury.

Use Overgrips-

 Overgrips offer additional cushioning and aid in maintaining a consistent grip, even during intense rallies when your hands become sweaty.

Seek Professional Coaching-

 If you're serious about improving your squash game, consider seeking coaching from a qualified instructor. They can provide personalized guidance on your grip and other aspects of your technique.
Benefits of a Correct Grip
Having a proper grip on a squash racquet is vital for various reasons, as it substantially impacts your performance and overall experience on the court. Below are the advantages of employing a proper grip in the game of squash:
Better Control– A proper grip enables enhanced control over the racquet, facilitating improved performance. Having reasonable control is essential for accurately directing the ball and precisely placing your shots, ensuring they go exactly where you intend them to. You can hit the ball with the right amount of power and finesse with the proper grip.
Improved Power– Mastering the art of a proper grip unleashes the hidden power within your shots. Proper grip technique enables efficient energy transfer from your body to the racquet head, enhancing your ability to strike the ball with greater control and force.
Reduced Risk of Injury– Using the right grip helps lower the chances of hurting your wrists and elbows. An improper grip can strain these areas excessively, potentially causing discomfort or injury with prolonged use. A correct grip helps distribute force evenly, reducing the chances of strain.
Enhanced Feel and Touch– A proper grip enhances your tactile connection with the ball and racquet, improving performance. This heightened sensitivity to the racquet's orientation aids in making nuanced adjustments and executing precise shots with exceptional accuracy, including drops, volleys, and lobs.
Consistency– Proper grip is crucial for maintaining a consistent playing style and technique. Character is imperative for enhancing your game and adjusting to opponents and situations on the squash court.
Better Spin Control– The manner in which you grip the racquet impacts your capacity to generate spin on the ball. By applying the appropriate grip, you can effectively incorporate topspin or backspin into your shots, thereby increasing the difficulty for your opponent in anticipating the trajectory of the ball.
Improved Stamina– A correct grip can minimize the level of exertion needed to maintain control of the racquet and achieve effective ball contact. This technique can assist in conserving energy during extended matches, enhancing both stamina and endurance.
Faster Reaction Time– A proper grip enables swift adjustments and responsive reactions to your opponent's shots, enhancing your performance on the court. Agility plays a crucial role in the game of squash, where the ball moves at high speeds, and rapid changes in direction are expected.
Enhanced Shot Variety– The appropriate grip empowers you to execute a diverse range of shots and strategic maneuvers proficiently, encompassing drives, boasts, drops, and beyond. Your versatility enhances your capabilities as a formidable opponent on the court.
Common mistakes you make with your squash grip
Holding the handle like it's a tennis racquet
Holding a racquet with the handle flat, tightly or with a full hand grip is fine for tennis but disastrous for squash racquets. What I often do is lay the racquet over the palm of my hand at a slight angle, which allows the racquet face to make contact with the ball at an angle greater than 90 degrees. I hold the racquet making sure that the face is not facing the front wall or pointing towards the floor directly.
A proper squash grip involves using your thumb and index finger to form a "V" shape. Many amateurs bring their "V" shape on the side of the racquet but that closes the face of the racquet. When I hold my racquet, the "V" shape is always in a position that helps keep the racquet face up.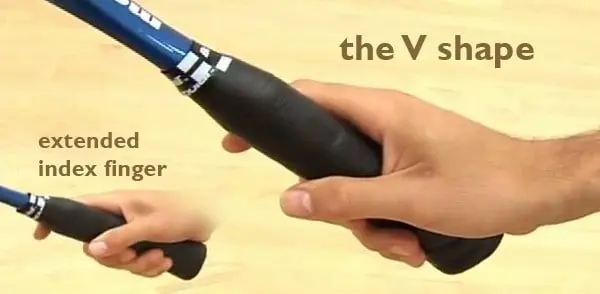 You also need to extend your index finger a bit from the other fingers for better control. If you hold the index finger too close to the other fingers, you will get more power but lose control.
Holding the handle too hard
Do not give yourself unnecessary premature blisters by always holding your racquet too hard. I promise all you need to do is hold it firmly. You may be tempted to hold your racquet too hard when you are under pressure to rally, and you are scampering around trying to get a foothold in the rally. In such situations you may be forced to hit three or four recovery shots to regain the right position.
Regaining the right position is hard work so the best thing to do in that situation, is try and relieve as much pressure or tension throughout your body to avoid overexerting yourself. One way to relieve the tension is by holding the racquet in a relaxed grip when you are in the T-Position. A relaxed grip makes it easier for you to maneuver the racquet face if the ball is low, behind you or if you are off-balance. It also allows for better follow through where you can throw the racquet head up and also helps pull you back to the T-Position.
By holding the racquet right in the middle of the grip, you will get a great balance between power and control. The lower you hold the racquet handle the more power you can achieve, while the higher you hold the racquet the more control you get but you lose the reach. I always make sure that the butt of the racquet is resting on the fleshy part of my palm not in the center of my palm. Do that too.
Having a hard time with your squash grip?
If you are finding it hard to maintain a proper squash grip, you can:
Use the sweet spot of the racquet more. This is because off-center shots can really loosen your grip as you twist the racquet.
Try to add over-grips to increase size
Hold the racquet tightly enough so that it doesn't slip when you are playing
Increase the sweet spot of your racquet by re-stringing it at a lower tension. You may have noticed that most factory string racquets are strung very tight.
https://www.youtube.com/watch?v=hL6TYHte65Y
But some top squash players don't use proper squash grip!
You may have seen some top level players using unorthodox grips like two-handed grips effectively. What this tells you is that your squash performance does not rely entirely on how you grip the racquet. In fact, using unconventional grips in some cases can be successful. Just master the proper grip and then you can experiment with other grips as you train.
FAQs
Q1. How should I hold a squash racquet?
 Squash has different grip styles, but the most common one is the "Eastern grip." Use your fingers to wrap around the handle of the racquet and your thumb to rest against the back of the handle as you would if you were holding a hammer to use this grip. This grip allows for reasonable control and maneuverability.
Q2. What is the importance of a proper grip in squash?
A proper grip is crucial in squash as it directly affects your control, power, and accuracy when hitting the ball. Using the correct grip ensures you can make precise shots and quickly adjust to different situations during a game.
Q3. Are there variations of grips in squash?
Aside from the Eastern grip, there are other grip variations like the Western and the Semi-Western grip. These grips can be suitable for specific shots or playing styles, but the Eastern grip is the most widely used and recommended for beginners.
Q4. How tightly should I hold the squash racquet?
Holding the racquet with a firm but relaxed grip would be best. Squeezing the handle too tightly can lead to tension in your arm and reduce your control. Find a balance with a secure hold without straining your hand and wrist.
Conclusion
I was quite happy with the great change in my performance on the squash court once I changed my grip. All you need to do to master the right grip technique is to keep on practicing until it becomes ingrained in your head. As you practice your grip also pay attention to your foot and swing techniques. We've written extensively on some simple ways to improve your squash game here as well.
Want to use this infographic on your site?
Just copy and paste the below code into the HTML of your page to show this infographic on your site with the correct attribution! You're welcome!
<a href="https://bosssquash.com/blog/squash-grip/"><img class="alignright size-full wp-image-1006″ src="http://bosssquash.com/wp-content/uploads/2018/06/HoldingSquashRacquet.jpg" alt=" HoldingSquashRacquet" width="1200″ height="2536″ /></a>