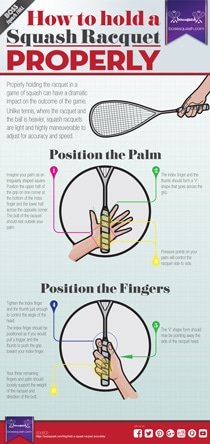 [Updated on 1 August 2022] If anyone has ever told you that you are not that good at touch shots, it may be because you are holding your squash racquet like a hammer.
You see, I used to hold my racquet like a hammer, and while it gave me a lot of what I thought was control, I was often tired after a few minutes of playing. Many years later, there are still a few squash players that avoid me like the plague and refuse to be in my team because of that.
I started working on my grip and a few other techniques, and after some time I noticed that I was improving. You see, when you use a proper squash grip it gives you the ability to move quickly between your forehand and backhand. You also get to generate power, control the weight of the shot and hit the ball successfully in every direction.
A proper squash grip also allows you to impact spin on the ball. It is important for you to master the right grip early so that you don't end up suffering for weeks and weeks, as you try to fix your grip after developing bad habits. Talking about habits, let us look at some of the common mistakes you may be making with your grip.
Common mistakes you make with your squash grip
Holding the handle like it's a tennis racquet
Holding a racquet with the handle flat, tightly or with a full hand grip is fine for tennis but disastrous for squash racquets. What I often do is lay the racquet over the palm of my hand at a slight angle, which allows the racquet face to make contact with the ball at an angle greater than 90 degrees. I hold the racquet making sure that the face is not facing the front wall or pointing towards the floor directly.
A proper squash grip involves using your thumb and index finger to form a "V" shape. Many amateurs bring their "V" shape on the side of the racquet but that closes the face of the racquet. When I hold my racquet, the "V" shape is always in a position that helps keep the racquet face up.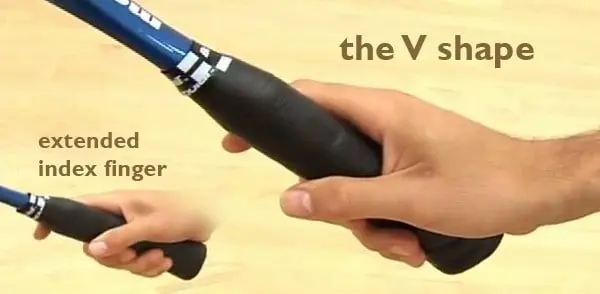 You also need to extend your index finger a bit from the other fingers for better control. If you hold the index finger too close to the other fingers, you will get more power but lose control.
Holding the handle too hard
Do not give yourself unnecessary premature blisters by always holding your racquet too hard. I promise all you need to do is hold it firmly. You may be tempted to hold your racquet too hard when you are under pressure to rally, and you are scampering around trying to get a foothold in the rally. In such situations you may be forced to hit three or four recovery shots to regain the right position.
Regaining the right position is hard work so the best thing to do in that situation, is try and relieve as much pressure or tension throughout your body to avoid overexerting yourself. One way to relieve the tension is by holding the racquet in a relaxed grip when you are in the T-Position. A relaxed grip makes it easier for you to maneuver the racquet face if the ball is low, behind you or if you are off-balance. It also allows for better follow through where you can throw the racquet head up and also helps pull you back to the T-Position.
By holding the racquet right in the middle of the grip, you will get a great balance between power and control. The lower you hold the racquet handle the more power you can achieve, while the higher you hold the racquet the more control you get but you lose the reach. I always make sure that the butt of the racquet is resting on the fleshy part of my palm not in the center of my palm. Do that too.
Having a hard time with your squash grip?
If you are finding it hard to maintain a proper squash grip, you can:
Use the sweet spot of the racquet more. This is because off-center shots can really loosen your grip as you twist the racquet.
Try to add over-grips to increase size
Hold the racquet tightly enough so that it doesn't slip when you are playing
Increase the sweet spot of your racquet by re-stringing it at a lower tension. You may have noticed that most factory string racquets are strung very tight.
https://www.youtube.com/watch?v=hL6TYHte65Y
But some top squash players don't use proper squash grip!
You may have seen some top level players using unorthodox grips like two-handed grips effectively. What this tells you is that your squash performance does not rely entirely on how you grip the racquet. In fact, using unconventional grips in some cases can be successful. Just master the proper grip and then you can experiment with other grips as you train.
Conclusion
I was quite happy with the great change in my performance on the squash court once I changed my grip. All you need to do to master the right grip technique is to keep on practicing until it becomes ingrained in your head. As you practice your grip also pay attention to your foot and swing techniques. We've written extensively on some simple ways to improve your squash game here as well.
Want to use this infographic on your site?
Just copy and paste the below code into the HTML of your page to show this infographic on your site with the correct attribution! You're welcome!
<a href="https://bosssquash.com/blog/squash-grip/"><img class="alignright size-full wp-image-1006″ src="http://bosssquash.com/wp-content/uploads/2018/06/HoldingSquashRacquet.jpg" alt=" HoldingSquashRacquet" width="1200″ height="2536″ /></a>