Best Squash Book: Steps to Success
[Updated on 1 July 2022] Why would you look to read a book on squash when you can just play? Playing certainly is the best way to learn, but taking a step back and thinking about your game can help you improve too. There are a number of squash related books out there, so we've narrowed down the best squash books for you.
These squash books can help you with your technique, your training, your racquet choice, your equipment choice, your strategies, your tactics, your warm-ups!  They are a great way to improve your overall squash game step by step.
Finding some of these books might be difficult. Much of the books below are from online forums or from older players at my club.

Best Squash Books for Beginners
Yarrow and Harrison do a good job of explaining squash to new players and you get a basic understanding of the game, and the diagrams and pictures help to explain what they are communicating.
This book is nice because of the diagrams!
Written by Colby squash coach Sakhi Khan, this is a concise and short summary of squash fundamentals to get you up and running (without the same context as the other books above).
David Pearson was the national coach for the UK team for a number of years and in this book he proceeds to break down what he knows and provide you with an easy to follow read. Want to improve your technique? Pearson can help you out with that. Want to play sneaky and start improving your mental game? Go crazy 😉
Best Squash Book for Growing as a Player
Written by Hashim Khan (regarded by some to be the best squash player ever – the next author would beg to differ). This was the original strategy book on the game of squash and the tactics Hashim discussed are still relevant today.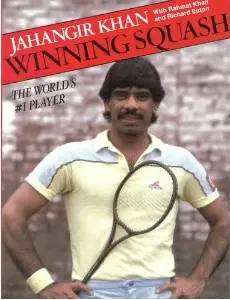 Jahangir lays out his thoughts on squash strategy. Most importantly, you see his thoughts on practice and skill development from the mind of the greatest squash player of all time. Jahangir "trusted the process" (insert Bill Belichick and the current New England Patriots dynasty) of his coaching and committed to this one way his entire career.
Author Jonah Barrington doesn't mince words on the strategy of squash, which is grueling. This book is for social players who want to get more competitive and start entering tournaments.
Best Squash Book for Learning the History of Squash
This book by author James Zug focuses on the history of squash in the USA. This book highlights squash only in the USA, so for players in Europe or Asia you have to look elsewhere…
If you can get your hands on this book, I'm told it gives a great overview of the history of squash (specifically with squash's start in England).
Best Squash Books for Learning Hardball Doubles
The last chapter is on hardball doubles from squash (and hedge fund) legend Victor Niederhoffer. Victor highlights the differences between hardball doubles and softball singles.
The book is great for all other aspects of the singles squash game too, specifically on shot selection and when to use certain shots.
Best Squash Books on Great Players
If you play squash, you need to know about Jahangir Khan, widely regarded as the best squash player ever. His name has even popped up in some discussions as one of the best athletes ever. This book profiles Jahangir's career, in which at one point he played 555 consecutive matches without losing. This is one of the greatest feats in sports.
Nick gives a rare behind the scenes look at what it takes to be a modern squash professional today. Nick shares his philosophy and mental toughness, which is fitting coming from the man who earned the nickname "The Wolf."
Best Squash Books for Coaching and Rules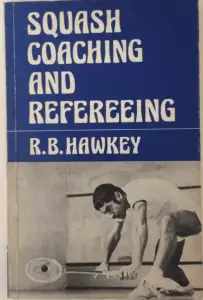 Hawkey splits the book into two parts, one on coaching and the other on refereeing. On coaching, he mentions that the sole purpose of coaching is to get players to enjoy the game more. I like that, as I've certainly enjoyed the game more after coaching and learning the nuances of the game and the strategy that goes into the game of squash.
Best Squash Book Conclusion
If you are looking to up your game, these are some of the best squash books available. If you are looking for a core set of books to fill out your squash library, you cannot go wrong with Winning Squash, Winning Squash Racquets, Squash Steps to Success and Sweating Blood.