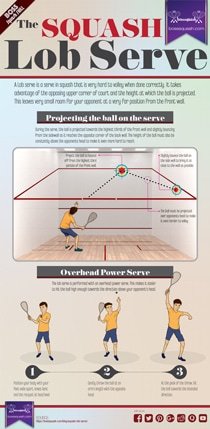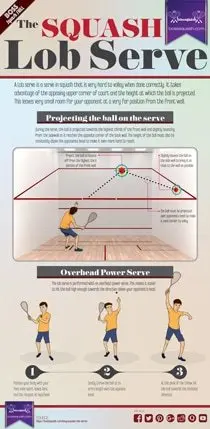 [Updated on 1 July 2022] A lob serve is a serve in squash that is very hard to volley when done correctly. It takes advantage of the opposing upper corner of the court and the height at which the ball is projected. This leaves a very small room for your opponent at a very far position from the front wall.
Projecting the ball on the serve
During the serve, the ball is projected towards the highest thirds of the front wall and slightly bouncing from the sidewall as it reaches the opposite corner of the back wall. The height of the ball must also be constantly above the opponents head to make it even more hard to reach.
Project the ball to bounce off from the highest third portion of the front wall.
Slightly bounce the ball on the side wall to bring it as close to the wall as possible.
The ball must be projected over opponents head to make it even harder to volley.
Overhead Power Serve
The lob serve is performed with an overhead power serve. This makes it easier to hit the ball high enough towards the direction above your opponent's head.
Position your body with your feet wide apart, knees bent and the racquet at head level.

Gently throw the ball at arm's length with the opposite hand.

At the peak of the throw, hit the ball towards the intended direction.
Want to use this infographic on your site?
Just copy and paste the code below into the HTML of your page to show this infographic on your site with the correct attribution! You're welcome!
<a href="https://bosssquash.com/blog/squash-lob-serve/"><img class="alignright size-full wp-image-1006″ src="http://bosssquash.com/wp-content/uploads/2018/12/Squash-Lob-Serve.jpg" alt="Squash-Lob-Serve" width="1200″ height="2452″ /></a>
During an intense game such as squash, the body exerts great efforts to perform twists, sudden turns and deliver force on the court. Forcing all of the muscles to perform at its best at a very fast pace can wear on your body. Warm-up exercises are strongly recommended when doing any strenuous activity to help condition the muscles before playing the game. Read our article on
squash warm-up exercises