[Updated on 1 August 2023] The great debate of the best racquet sport continues to wage on, with Squash vs Racquetball having equally passionate sides. As we all know… it's no contest! Squash is the clear winner! 🙂
But for those of you who may be new to the game or are trying to convince your other racquet friends, our comparison of Squash vs Racquetball will help you to convert even the most stubborn of your friends!
Squash vs Racquetball
Usually, when you are talking about two different sports it is easy to differentiate between the two. These two games are similar in several ways, including the use of a racquet, being played on an indoor court, and using a rubber ball.
To the untrained eye, they look like the same sport, but those familiar with the sports know that there are just as many differences as there are similarities. If you are looking to play either sport or simply want to be a spectator, there is a lot you need to know about each game.
Which Came First?
There is no question that Squash came first with its origins dating back to 1860s England and Racquetball only being invented in 1949. While purists may think that this makes Squash the more legitimate sport, it is important to note that Squash itself is a variation of a sport played in prisons in the 1700s.


Through the years, both sports had seen a lot of changes, so while Squash has Racquetball beat by almost a century, neither is the sport they were when they were first conceived.
What Are the Differences Between the Two?
The games have many similarities, but they have just as many differences. Even their differences can seem minimal at sometimes, but they are still important to distinguish.
Scoring
In squash, a player wins when they reach 11 points with a two-point margin. In Racquetball the first player to 15 points wins, but you have to win at least two rounds to win the game.
Another important difference between scoring in each game is that in Racquetball only the serving player can score while in Squash, each player can earn a point no matter who serves.
Courts
The courts are a big point of differentiation. While they may look similar, they are far from the same. Squash courts measure 32 x 21 x 15 feet, while Racquetball courts measure larger at 40 x 20 x 20 feet. Traditional Squash balls are smaller than Racquetball, with the former measuring 4 centimeters in diameter and the later measuring nearly 6 centimeters in diameter.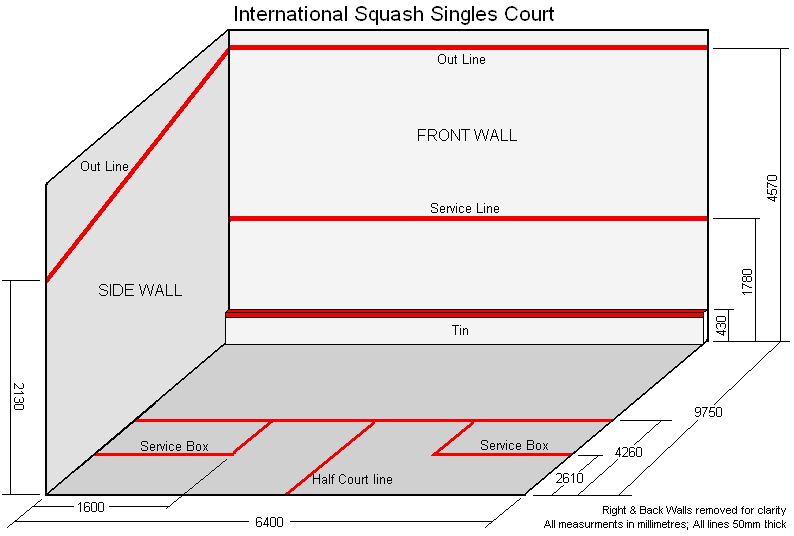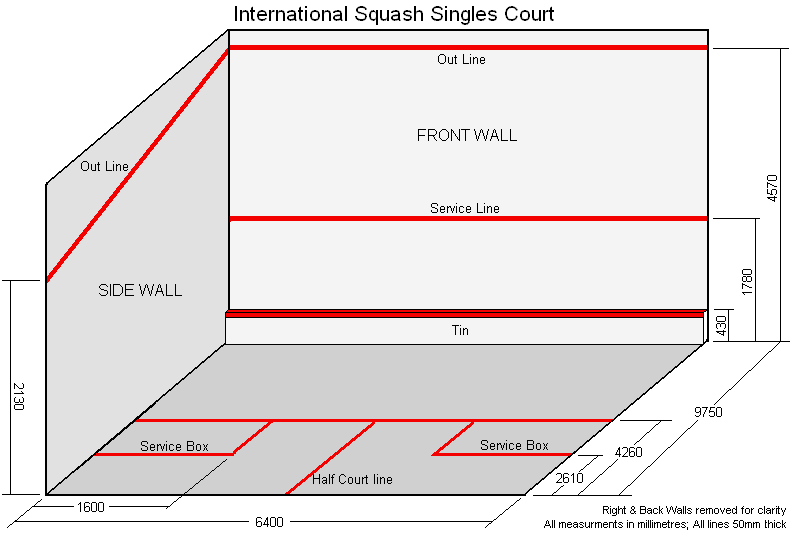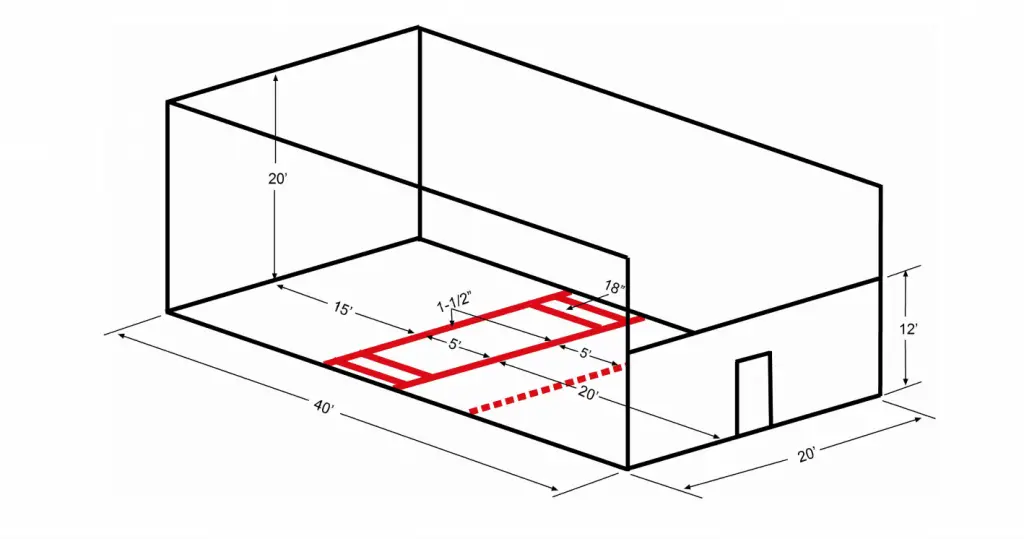 The two courts have significant boundary differences. Squash is much more restrictive than Racquetball with designated out of bounds areas and serving boxes. Racquetball has a designated serving area between two lines, but after that, there are no restrictions on where the ball can bounce; even the ceiling is fair game.
Because squash courts are more restrictive, it allows for much longer points. In squash, a "kill shot" is not as prevalent and commonplace as in racquetball. In racquetball, the kill shot is aimed to hit the lowest part of the front wall and then bouncing twice (near the wall) to end a point.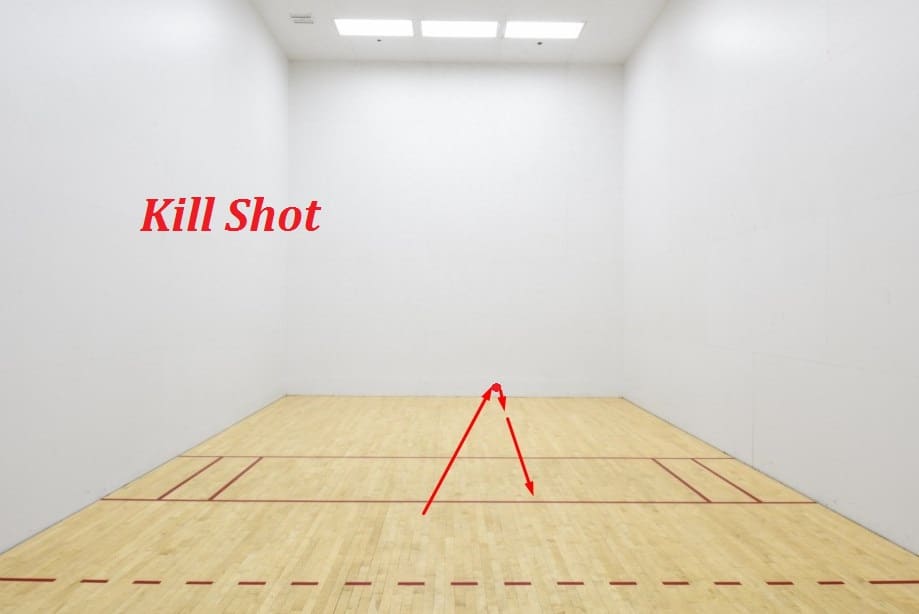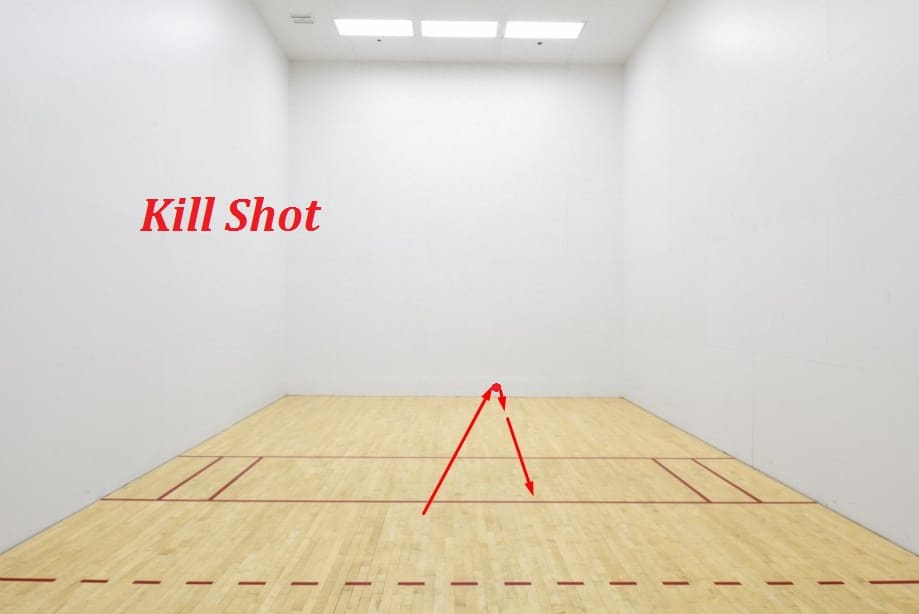 In squash, that shot does not exist because of the tin. In squash, the closest equivalent to a kill shot is hitting the nick.
Serving
In Squash you are only allowed one serve for better or worse. In Racquetball you can replay the serve if it is considered faulty. A serve is considered faulty for several reasons including the ball bounces ahead of the short line on the floor, the ball touches any wall or the ceiling before landing on the floor and after hitting the front wall, the server leaves the service box before the ball lands on the floor, or the receiver is not ready.
In Racquetball the receiver must allow the ball to bounce once before playing it, unless it has passed the encroachment line. In Squash, the player can play the serve before it bounces. One more significant difference between the two is that while both games require the server to serve from a serving box, Squash also requires the ball to land in the service box after hitting the wall below the service line and above the tin line.
Racquets
Aside from the court, the biggest physical difference between the two sports is the racket. Although racquetballs are bigger, the racquet is small, with a maximum length of 22 inches. These rackets usually have a closed neck and look more like a tennis racket.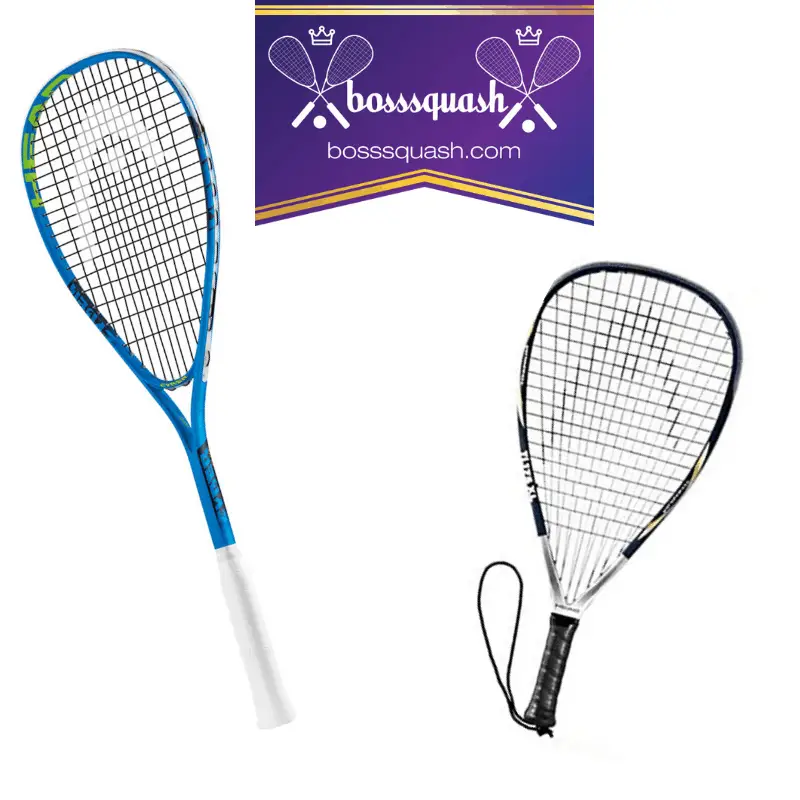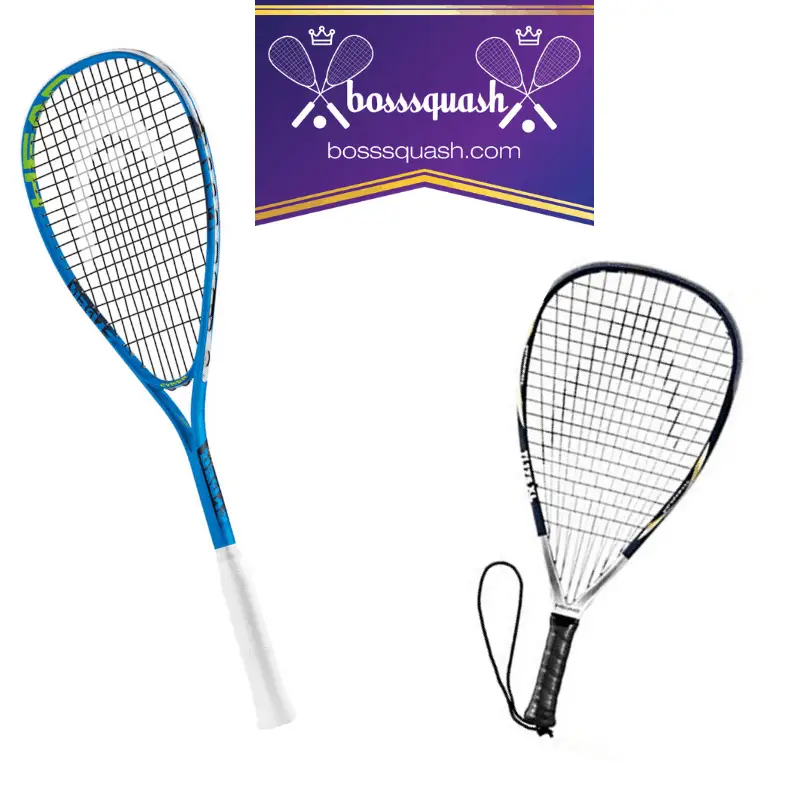 Squash racquets more often have an open neck like a badminton racquet and can measure up to 27 inches in length.
Ball Size
Racquetball and squash are two distinct sports with some similarities but key differences, including the size of the balls used in each game.
Racquetball:
Racquetball is a fast-paced indoor sport played on a small, enclosed court.

The ball used in racquetball is typically more significant than a squash ball.

The standard size of a racquetball is approximately 2.25 inches (5.7 cm) in diameter.

Rubber tennis balls used in racquetball are recognized for having a high bounce and lively, increasing the game's speed and excitement.

The game involves hitting the ball against the walls, and players must use their racquets to return the ball before it bounces twice.
Squash:
Squash is also an indoor racquet sport but is usually played on a larger court than racquetball.

Squash balls are more petite and less bouncy compared to racquetballs.

The standard size of a squash ball varies depending on the level of play and the specific ball type, but it is approximately 1.57 inches (4 cm) to 1.63 inches (4.1 cm) in diameter.

Squash balls are made of rubber, but they have different color-coded dots to indicate their level of bounce and speed. The higher the dot number, the slower the ball and the more experienced the players generally are.

In squash, the ball must be hit against the front wall, and the goal is to outmaneuver the opponent, using strategy and skill to win points.
In summary, while both racquetball and squash are exciting indoor racquet sports, they differ in court size, gameplay, and, notably, the size and bounce characteristics of the balls used. Players of both sports enjoy the challenge of using their racquets to control the ball and outsmart their opponents on the court.
Squash Sport Vs Racquetball Popularity
Squash and racquetball are common racket sports played on indoor courts as of my most recent knowledge update in September 2021. Still, their popularity can vary depending on the region and cultural preferences. Here's a comparison of their popularity:
Squash: 
Two players (singles) or four players (doubles) compete in the racquet sport of squash on a court with four walls. 
The game consists of striking a small rubber ball against the front wall as players alternate turns to keep the ball within the designated boundaries.
 Squash has a more extended history and is considered to be more traditional. It originated in England in the 19th century. The sport is known for its high intensity, requiring players to cover the entire court and use strategic shots to outmaneuver opponents. Squash has a strong following in countries like England, Egypt, Pakistan, and North America. It has a well-established professional circuit with major tournaments like the British Open and the PSA World Championships. While squash has a dedicated following and competitive scene, it might not be as widely played or recognized as other racket sports in certain regions.
Racquetball:
Racquetball is another indoor racket sport played with a small rubber ball, usually by two players (singles) or four players (doubles) on a four-walled court. The game involves hitting the ball against the front wall, intending to make it difficult for the opponent to return. Racquetball has gained popularity more recently compared to squash. It was developed in the United States in the 1950s. The sport is known for its fast-paced nature and less strict rules on shot selection, making it more accessible for beginners. Racquetball has been particularly popular in the United States and Canada, with a robust recreational following and a competitive scene. The sport has seen fluctuations in popularity over the years but has maintained a solid presence in certain regions.
Regarding popularity, squash and racquetball have their dedicated player base and enthusiasts. Squash tends to have a more international and established competitive scene, while racquetball has had strong pockets of popularity, especially in North America.
The popularity of sports can change over time, and there might have been developments since my last update in September 2021.
The Olympic Status Of Both Sports
I can give details regarding the Olympic status of sports, squash, and racquetball as of my most recent knowledge update in September 2021.
Squash: 
Two players (singles) or four players (doubles) use racquets to play squash on a court with four walls. It involves a racket hitting a small rubber ball against the front wall. Squash has a global following is recognized for its fast-paced nature and physical demands.
Despite its popularity and efforts by the international squash community, squash has yet to be included in the Olympic Games as of 2021. The World Squash Federation (WSF) has made multiple attempts to get squash included in the Olympics, but it has failed. Squash remains a part of various multi-sport events and has its international tournaments.
Racquetball: 
Racquetball is another sport played with hollow rubber balls and rackets. It is typically played in an indoor court with four walls. The objective of racquetball is to hit the ball in a way that makes it difficult for the opponent to return it within the designated bounds of the court.
Similar to squash, racquetball has not been included in the Olympic Games. As of my last update in September 2021, racquetball has yet to achieve Olympic status. It enjoys popularity in specific regions and has international competitions and tournaments.
Please note that these circumstances may have changed since my last update, so I recommend checking with up-to-date sources to get the latest information on the Olympic status of both squash and racquetball.
Which Is Faster, Squash Or Racquetball?
Squash is generally considered the fastest of the two sports, squash and racquetball. The ball used in squash is smaller and less bouncy than the ball used in racquetball, resulting in shorter rallies and faster gameplay. The court dimensions in squash are also smaller, meaning players have less time to react and cover the distance between shots, adding to the game's overall speed. Squash players often need to exhibit rapid reflexes and agility due to the nature of the game.
On the other hand, racquetball tends to be slightly slower than squash. The racquetball ball is more giant and bouncy, leading to longer rallies and more time for players to react. The racquetball court is more significant than a squash court, giving players more space to cover and potentially resulting in slightly less intense movements than squash.
In summary, while both squash and racquetball are fast-paced sports, squash is generally considered to be the faster of the two due to factors like ball size, court dimensions, and gameplay dynamics.
Frequently Asked Questions
Q1. Which is the Better Workout?
The simple answer is that the one you play harder is the better workout. While this is true, if you put the same two people against each other in both sports one of them has a slight advantage.
According to Livestrong.com, a 155-pound person playing for 30 minutes stands to burn 422 calories. Healthfully.com says that 30 minutes of intense racquetball play burns 340 calories for a similarly sized person. The average racquetball player of that size is more like to burn closer to 235 calories in a 30-minute time span.
Squash's major advantage comes from the strategy involved in moving your opponent off their spot in the court.
Q2. Is racquetball and squash the same thing?
While they are both a racquet sport played in an indoor court with a wall to hit at, that is where the similarities end. Both sports use a different ball, racquet, and have completely different playing strategies.
Q3. Is racquetball easier than squash?
Loaded question! Squash burns more calories than racquetball, so you could say racquetball is an easier workout. This is primarily because the rallies in squash are longer and kill shots are not as common in squash.
Q4. Can you play squash on a racquetball court?
No, you cannot play a game of squash on a racquetball court. The court dimensions prevent this from playing a proper game of squash.
Q5. Is Squash Better Than Racquetball?
There are surely people on both sides of this argument, but for my money, Squash is the superior game. Squash has more going for it in terms of history alone. It is a better workout and requires more thinking and strategy than Racquetball.
Racquetball is also considered the more dangerous of the two sports with facemasks and wrist tethers recommended for protection. Most schools will not even allow Racquetball because of the danger associated with the fast-moving ball.
When talking about squash vs. racquetball, we recommend keeping that conversation amongst your friends who you play with. No need to start any drama with those you know who play the other sport 🙂
Q6.

How do the rules vary between the two sports?
In squash, the ball must be hit above the tin (bottom boundary) and below the outline (top boundary) on the front wall. The ball can also hit side walls and still be in play.

In racquetball, the ball must cross the short service line on the serve, hit the front wall, and then bounce past the dashed receiving line before being returned. Players can use the side walls to their advantage.
 Q7.

Are there any safety considerations for both sports?
Safety goggles are recommended for both sports to protect players' eyes from fast-moving balls. Proper footwear with good traction is also crucial to prevent slipping on the court.
 Q8. What about the scoring systems?
Squash typically uses the traditional hand-in-hand-out scoring system, where only the server can score points, and a game is played to 11 or 9 points.

Racquetball often employs a rally-scoring system, where both the server and receiver can score points. Games are usually played to 15 points.
 Q9. Which sport is more popular?
The popularity of these sports varies by region. Squash is more prevalent in certain parts of Europe and Asia, while racquetball is more commonly played in North America.
 Q10.

Are there any safety considerations for both sports?
Safety goggles are recommended for both sports to protect players' eyes from fast-moving balls. Proper footwear with good traction is also crucial to prevent slipping on the court.
Conclusion
In conclusion, Squash and racquetball offer unique and exciting experiences for players seeking fast-paced racket sports. While they share similar gameplay and equipment, they also possess distinct characteristics catering to different preferences and skill sets.
With its emphasis on strategy, finesse, and fitness, Squash challenges players to navigate tight spaces and execute precise shots. The nature of the court and the process employed make it a game of intense physicality and mental acuity.
On the other hand, racquetball's larger court and faster-paced gameplay focus on quick reflexes, power shots, and dynamic movements. The unique three-wall design of the court adds an element of unpredictability to the game, demanding adaptability and agility from players.
Ultimately, the choice between Squash and racquetball depends on individual preferences and playing style. Squash may attract those who enjoy a strategic, close-quarters game, while racquetball may appeal to those who thrive on rapid exchanges and aggressive plays.
Both sports offer exceptional cardiovascular workouts and opportunities for social interaction, making them popular choices for recreational and competitive players alike. Whichever sport one chooses, the enjoyment and benefits derived from engaging in these thrilling racket sports are undeniable, contributing to an active and healthy lifestyle.