[Updated on 1 August 2022] If you are looking for a sport that you can play with the whole family, squash is one of the best choices you can make. Squash is a court game that is played on self-contained courts with rackets and squishy balls. It develops skills such as timing, control, and hand-eye coordination, and it can be played all year round. 
You may be wondering how to get your family started playing squash, and you can read on to learn more. The reality is that most kids enjoy it once they begin playing. Because this is a fast-paced game, it is both challenging and exciting at the same time. Playing squash with your family is a great way to get your kids involved in a sport and to spend time together.
There are additional benefits to becoming a squash family; for example, squash is a sport offered at a number of excellent colleges and universities. The number of high school students who excel in this sport is small, and if your child takes a more committed path with this sport, he or she may have an edge in getting into one of the top schools. 
Getting Started with Squash: What You Need
To get started playing squash, you will need a few pieces of equipment and clothing. You will also need to find a facility that offers squash near you. Although squash used to be a more elitist sport that was rarely found outside of fancy private clubs, its recent rise in popularity has led to more squash facilities opening up. The first step you need to take is to find a facility where your family can play squash.
You and your family will need clothing and equipment to play squash. Take a look at the following list:
This basic list will get you started. As you become more involved in the sport, you may need to regrip or restring your racket from time to time, but a squash pro shop can handle it for you. 
How to Play Squash for Beginners
Once you and your family members have your equipment and have found a place to play, you are ready to begin. First, you should know how the sport is played. Here are the basics of the game:
Squash is played on an enclosed squash court.

Squash can be played between two people or two teams with two people each.

First, one player serves the squash ball.

The players rally until one player hits the ball out or hits the ball after it bounces twice.

Squash can be played socially or competitively.
Keep in mind that squash is a fast-paced game, and you will want to make sure that you all have a basic level of fitness. You can also start with some lessons to learn the proper technique for your swing and how to strategically make winning shots. You will want to learn the layout of the court as well. 
The Squash Court
The original game that has developed into Squash was played with a front wall and one sidewall. When you face the front wall, the line in the middle is called the cut line. There is a lower area just above the ground that is marked out, and this is called the tin. The line on the sidewall that comes down on an angle is the out of court line, and anything above it is a shot that is out. 
quaIn the back of the court, there is a left-hand service box and a right-hand service box. In the middle is a half-court line. The line in front of the service boxes is called the short line. You will want to familiarize yourself with the layout of the court because the rules are based on knowledge of where these lines are and where you are allowed to hit the ball.
Why Playing Squash Is a Good Idea for the Whole Family
Besides the fact that squash is a lot of fun and a great way to exercise, your kids may be able to benefit from playing squash. It can be difficult to get into many of the Ivy League schools as well as other great colleges without an application that sets kids apart from the competition. Squash is a sport that can do just that.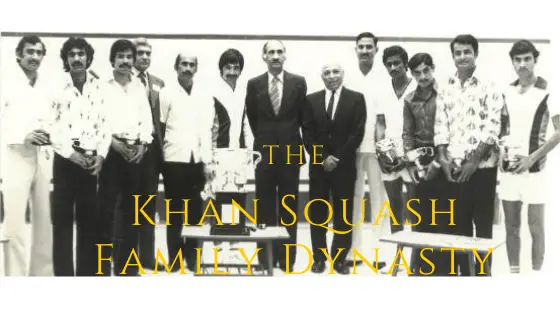 Although squash is growing in popularity and more people are learning how to play, there may be less competition to get onto a college team if your kids perfect their skills. By introducing your kids to squash and playing together as a family, you are providing them with the opportunity to find out whether this is a sport they would like to pursue. 
With younger children, it is a good idea to make the game more relaxed and fun. You don't need to necessarily play by the rules. You can create some of your own games to get them accustomed to the fast pace of hitting the ball. This is also a good way to familiarize them with the layout of the court. As they mature, they will be ready to learn the technique and rules of the game.
Squash Can Bring the Family Closer Together
No matter how you look at it, squash is a great activity to bring the family closer together. In addition to having fun, you will be giving your children an opportunity to fine-tune hand-eye coordination and timing skills that will benefit them in other sports as well. 
I hope you enjoyed this tutorial on how to get your family started playing squash. Being prepared before playing squash makes it easy to get out there and have some fun. Most squash courts are strict about what you wear, so it is important to have your clothes before you go. Please share your thoughts in the comments, and feel free to share this article with your friends.