[Updated on 1 June 2023] Any squash player with access to a regular practice partner can easily get into a habit of playing match practice games on each meet up.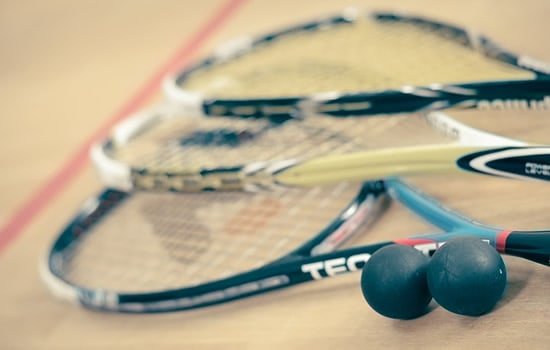 Even though this is a great way to practice squash, there is the risk of getting accustomed to playing a single opponent that plays in a specific way. Over time this can lead to boredom and you are less likely to have an all-round squash game.
The most effective route is to create a varied range of squash drills and routines that are playable with your squash partner. You will find over time this can really help to improve your overall game. Plus, the more varied and intense drills help to break up any boredom that may set in and it will be a lot more fun for you and your squash partner.
Let's take a look a few of the best squash drills for 2:
Striking to length with a backhand
Play with a squash training partner and hit the ball cross-court using the back-court. For the player on the left-hand side, you should aim to strike the ball hard and low, while your partner on the other side of the court should strike the ball soft and high. Continue to swap sides while you practice this drill.
Service practice
Practicing your service is certain to help with your game play. Start practicing your serve using the forehand. Your partner should simply strike the ball to return to you so that you can repeat the serve. Repeat this multiple times. The next drill is to let your partner practice their serve using their backhand, and you simply help by returning the ball. After repeating this multiple times, you should swap sides on the court to give the opportunity to work both the forehand and backhand side.
Long shots
Play a long shot game to help improve in areas like accuracy and control. A simple rule of this type of game is that every playable shot must be struck so it is hit past the service line.
Short shots
A further training drill to help improve your all-around control is to look at the short shots game. This training session is based on playing game points, but the idea is that each shot is hit short with the intention to avoid passing the service line.
Service box target
A simple method to play game points is to take shots that need to land in your partner's service box, which should also include the serve. However, it is not possible to use volleys. The players score a point for each shot that successfully hits the partner's service box. Keep changing sides as you complete a set.
Short Line Volleys
Welcome to Short Line Volleys, your go-to destination for all things related to the exciting world of tennis. Whether you're a passionate player, a dedicated fan, or simply curious about this dynamic sport, you've come to the right place. We provide comprehensive tennis coverage, including historical information and the latest updates on tournaments and players. Join us as we dive into the fast-paced world of tennis and explore the strategies, techniques, and captivating stories that make this sport so thrilling. Get ready to unleash your inner champion and embark on an exciting journey through Short Line Volleys.
Drives into target
In the fast-paced sport of squash, precision and control are paramount for success on the court. One crucial aspect of developing these skills is mastering the art of driving the ball into specific targets. Whether hitting a tight line, a low crosscourt shot, or a precise lob, accurate drives can give players a strategic advantage and force their opponents into difficult positions. This article will explore various squash drills designed to enhance your driving abilities, allowing you to hit your targets with confidence and finesse consistently. So grab your racket, step onto the court, and let's delve into the world of drives in squash drills.
Back wall rally
The back wall rally is a fundamental component of squash drills, designed to improve both accuracy and power in hitting the ball. In this drill, players aim to hit the ball against the back wall, ensuring it reaches the target area and bounces back into play. By practicing the back wall rally, players develop crucial skills such as timing, footwork, and control, essential for maintaining a strong position on the court and executing effective shots. Whether you're a beginner looking to refine your technique or an experienced player aiming to enhance your skills, incorporating back wall rallies into your training regimen is a valuable way to improve your overall game in squash.
Figure of 8
Figure 8 is a popular and effective squash drill that aims to improve agility, footwork, and shot accuracy on the court. This dynamic drill challenges players to navigate a designated path in the shape of a figure-eight, incorporating various movements such as lunges, turns, and quick changes in direction. By honing these fundamental skills, players can enhance their overall game, react swiftly to opponents' shots, and maintain excellent court coverage. Whether you're a beginner looking to refine your squash skills or an experienced player aiming to elevate your performance, the Figure of 8 drills provides a dynamic and engaging training method to enhance your on-court prowess.
Drives into small target
In the exhilarating game of squash, precision, and accuracy are vital skills that can make the difference between victory and defeat. One essential aspect of mastering these skills is the ability to drive the ball into small targets on the court with unwavering precision. To outperform their opponents, players should focus on learning the skill of executing forceful and precise drives to particular zones. This article will delve into squash drills that drive the ball into small targets. During the session, we will cover different approaches and methods to improve your precision and command while playing on the court. Whether a beginner seeking to improve your fundamentals or an experienced player aiming to fine-tune your skills, these drills will provide invaluable opportunities to develop your drive shots and take your squash game to new heights.
The nick
Welcome to "The Nick in Squash," a thrilling journey into squash's fast-paced and competitive world. Squash, a racket sport played on a four-walled court, combines lightning-fast reflexes, strategic thinking, and explosive athleticism. At the heart of the game lies the coveted "nick," a perfectly executed shot that hugs the sidewall and barely scrapes the front wall, leaving opponents in awe and scrambling to react. Join us as we delve into this captivating sport's artistry, intensity, and sheer adrenaline, where players strive to achieve the ultimate glory by mastering the elusive and breathtaking "nick" shot.
Position Volley
In the exhilarating sport of squash, position volleying is a crucial technique that demands skill, precision, and strategic thinking. As players engage in fast-paced rallies within the confined court, the ability to execute a well-timed position volley becomes a valuable asset. This technique involves taking control of the T-position, where players strategically position themselves to maintain a dominant court position and effectively intercept their opponent's shots. Mastering the art of position volleying allows players to seize the initiative in the game and will enable them to dictate the pace and direction of play. In this article, we will delve into the intricacies of position volleying in squash, exploring its importance, fundamental principles, and tips to enhance your performance on the court.
2 straight, 1 cross
In the thrilling game of squash, players employ various shot techniques to outmaneuver their opponents and secure victory. One strategy that requires precision and strategic thinking is the 2 straight, 1 cross-shot. This maneuver involves hitting two consecutive shots along the same wall before executing a crosscourt shot to catch the opponent off guard. The 2 straight, 1 cross is a tactical play that tests a player's agility, control, and ability to anticipate their opponent's movements. In this article, we delve into the intricacies of this shot and explore its importance in the game of squash.
The 360 degree figure of 8
The 360-degree figure of 8 is a remarkable and complex maneuver that has captivated the squash world. With its graceful and strategic execution, this movement showcases the agility, finesse, and versatility of skilled players on the court. This captivating technique involves navigating the corners of the squash court in a continuous figure-of-8 pattern, creating a dynamic and unpredictable game that challenges both players' physical abilities and mental agility. The 360-degree figure of 8 pushes the boundaries of what is possible on the squash court, mesmerizing spectators and leaving opponents scrambling to keep up with twists and turns.
FAQs
Q1. What are squash drills?
Squash drills are structured practice exercises designed to improve various aspects of your squash game, such as footwork, shot accuracy, agility, and strategy.
Q2.  Why should I incorporate squash drills into my training routine?
Squash drills help you develop specific skills, improve your fitness level, increase your endurance, enhance your coordination, and boost your overall performance on the court.
Q3. How often should I do squash drills? 
Incorporating squash drills into your training routine at least two to three times a week is recommended. Consistency is vital to seeing improvements in your game.
Q4. Can squash drills help improve my fitness?
Yes, squash drills are an excellent way to improve your fitness. They involve various movements, such as lunging, running, and quickly changing direction, which can enhance cardiovascular endurance, speed, and agility.
Q5. What are some essential squash drills for beginners?
For beginners, it's important to focus on basic drills emphasizing fundamental skills. Some essential exercises include solo hitting against the wall, ghosting (practicing footwork without a ball), and target practice to improve shot accuracy.
Q6. Are there any specific drills to improve shot accuracy?
Yes, there are drills specifically designed to improve shot accuracy. Examples include:
Hitting the ball to different targets on the front wall.

Practicing boast shots.

Working on drop shots from different positions on the court.
Q7. How can I improve my footwork through drills?
Footwork is crucial in squash, and there are drills specifically aimed at improving it. Ghosting drills, where you simulate movements and footwork patterns on the court without a ball, enhance your footwork and court coverage.
Q8. Are there any drills to improve reaction time?
Some drills can help improve your reaction time on the squash court. One example is the "short line" drill, where a coach or partner hits the ball randomly along the short line, and you must react quickly and retrieve it.
Q9. Can squash drills help me develop better strategy and match-play skills?
Absolutely! Some drills focus on developing strategy and match play skills. These drills involve simulated game situations, such as playing points against a partner or practicing specific game scenarios to improve decision-making and tactical awareness.
Q10. Can I do squash drills alone?
Yes, many squash drills can be done alone. Solo-hitting against the wall, ghosting, and practicing target shots are all drills you can do yourself. However, it's also beneficial to incorporate partner drills and match play whenever possible to simulate real game situations.
Conclusion
In conclusion, squash drills are crucial in developing squash players' skills, technique, and overall performance. By incorporating a variety of drills into their training regimen, players can enhance their agility, footwork, accuracy, shot selection, and game strategy. Squash drills also help improve fitness levels, endurance, and mental focus, enabling players to excel on the court.
Through consistent practice and repetition of drills, players can refine their strokes, enhance their court movement, and develop better anticipation and decision-making abilities. Moreover, drills allow players to simulate game-like situations, improving their ability to handle pressure and adapt to different playing styles.
Furthermore, squash drills are not only beneficial for individual players but also for teams. Team-based drills foster communication, coordination, and teamwork among players, resulting in a cohesive and effective unit on the court.
Players and coaches must design a well-rounded drill program that targets various aspects of the game, including warm-up exercises, skill-based drills, match simulations, and conditioning drills. Regularly assessing and modifying the drill routine based on individual and team needs is crucial for continuous improvement and development.
Ultimately, squash drills serve as a foundation for player growth, helping them build a strong technical base, physical fitness, and mental resilience. By incorporating drills into their training routine, players can maximize their potential, enhance their performance, and enjoy the challenging and rewarding sport of squash to the fullest.