[Updated on 1 August 2022] Similar to the lob serve, the smash serve in squash is an overhand serve that helps you take over the 'T' position when done correctly. This serve takes racquet control, timing and precise ball placement.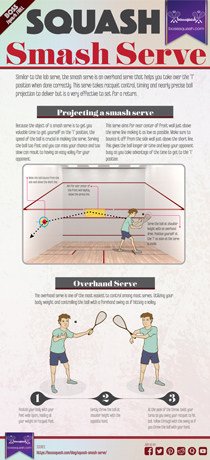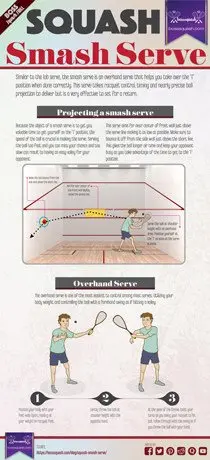 Projecting a smash serve
The goal of a smash serve is to get you valuable time to get yourself on the 'T' position. The speed of the ball is crucial in making the serve. Serving the ball too fast and you can miss your chance and too slow can result in having an easy volley for your opponent.
This serve aims for the near center of the front wall just above the serve line making it as low as possible. Make sure to bounce it off from the side wall just above the short line. This gives the ball longer air time to keep your opponent guessing as you take advantage of the time to get to the 'T' position.
Make the ball bounce from the side wall above the short line.
Aim for near center of the front wall slightly above the service line.
Serve the ball at shoulder height with an overhand drive. Position yourself at the 'T' as soon as the serve is made.
Overhand Serve
The overhand serve is one of the easiest to control among squash serves.
Position your body with your feet wide apart, holding all your weight on racquet foot.

Gently throw the ball at shoulder height with the opposite hand.

At the peak of the throw, twist your torso as you swing your racquet to hit the ball. Follow through with the swing as if you threw the ball with your hand.
Squash Smash Serve

Want to use this infographic on YOUR site?
Just copy and paste the below code into the HTML of your page to show this infographic on your site with the correct attribution! You're welcome!
<a href="
https://bosssquash.com/blog/squash-smash-serve/
"><img class="alignright size-full wp-image-1006″ src="http://bosssquash.com/wp-content/uploads/2019/01/Squash-Smash-Serve.jpg" alt="Squash-Smash-Serve" width="1200″ height="2630″ />
Want to learn how to do the perfect lob serve? Check out our infographic on
Squash lob Serve